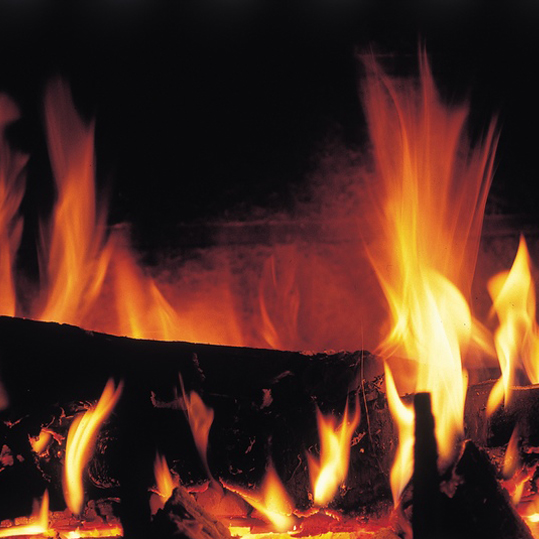 A dozen tips on what to do and what to avoid doing to build a fire easily and safely in your fireplace:
Do

have a chimney sweep inspect and clean your flue annually.
Do

take the time to

'stack' your fire correctly

to build a fire that will light easily and remain lit:
   3-4 balled-up sheets of newspaper under the grate, then
a handful of tinder
: slivers of pine or
fatwood
, then
   4-5 pieces of kindling : 1 inch square sticks of firewood.
   Add firewood only after the kindling is burning.
Do

warm your flue before lighting the fire: Make a "torch" by twisting together 2-3 sheets of newspaper, lighting it, and holding it near the opening of the flue, near the top of your firebox.
Don't

burn more pine or other softwood than necessary to get the fire started.
(Burning softwood deposits creosote in your flue, increasing the chance of a
chimney fire
.)
Don't

burn newspaper or magazine pages with colored print or gift wrapping paper.
(The fumes may be toxic.)
Don't

ever use gasoline or kerosene to start a fire in your fireplace.
(An explosion is a real possibility.)
When you build a fire in your fireplace,
woodstove
or
fire pit
, follow these tips to have a fire that will easily light and remain lit.

What to Do and What Not to Do to Build a Fireplace Fire
Tweet This
Do you have favorite fire building tips you'd like to share?
Traditionally, knowledge based on teachings and experiences about selecting and burning firewood was passed along verbally. Often such information was put into a rhyming format to make it easier to remember. Thus were born firewood poems and firewood songs to address the question, "Which Firewood Burns Best?" As with most things passed from generation to generation, […]