A Fireplace Set is a Problem Solver
You can be sure the fireplace accessories you buy will 'go together' perfectly when you choose a coordinated set. Fireplace sets make wonderful gifts, too, because you can be sure there will be no awkward mismatches in style or size.
Typically, a fireplace set–or ensemble–includes a fireplace screen, a set of fire tools, and often a log holder. That's everything you need to enjoy your fireplace—except for a fireplace grate. However, few grates have decorative features that one would want to coordinate with other fireplace accessories.
The components of each fireplace set are designed not only to have a harmonious finish but also to be appropriately scaled in size to each other.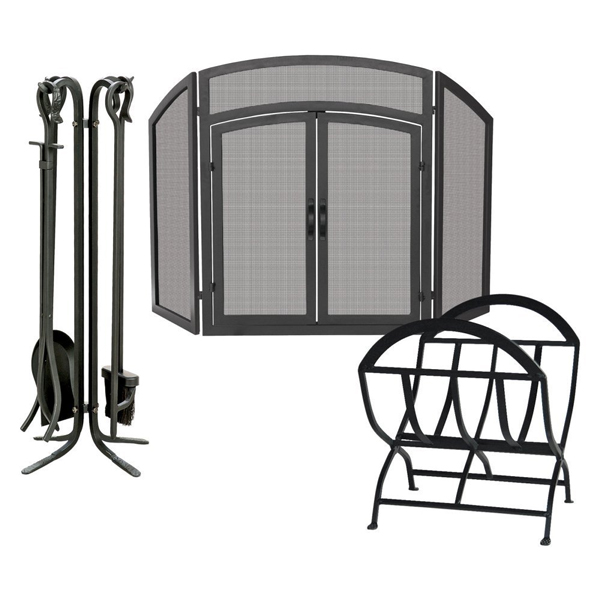 Measuring for a Fireplace Set
Measure the width and height of your fireplace opening.
The fireplace screens that come with many fireplace sets are three-panel screens. They have a center panel that is 21.5″ to 25.5″ wide and two side panels that are 12.5″ to 13″ wide each. They are 31″ to 32″ tall. These dimensions allow them to fit fireplaces that are 30″ to 39″ wide and 31″ to 33″ tall.
If you have a raised hearth, measure its depth from front to back. Be sure the fireplace set you select has a tool set with a base small enough to fit on your raised hearth.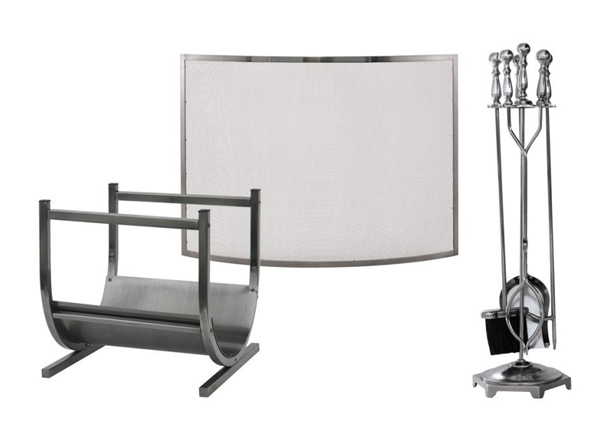 Finishes
Fireplace sets come in a variety of finishes such as oil rubbed bronze, graphite with pewter accents, and stainless steel.
Oil-rubbed bronze has a deep, subtle glow. This finish is rapidly becoming highly popular because it harmonizes so easily with other colors.
The graphite finish is a flat, medium gray. The pewter accents appear as finials on the fireplace screen, handles on the fireplace tools, and the handle of the log carrier.
Stainless steel is not a finish per se. It is the metal fireplace sets are made of. It's silvery, but not shiny. It resists rust and is great for outdoor fireplaces. If left outdoors all the time, 304 stainless steel will develop a tea-colored patina caused by the acid content in the air.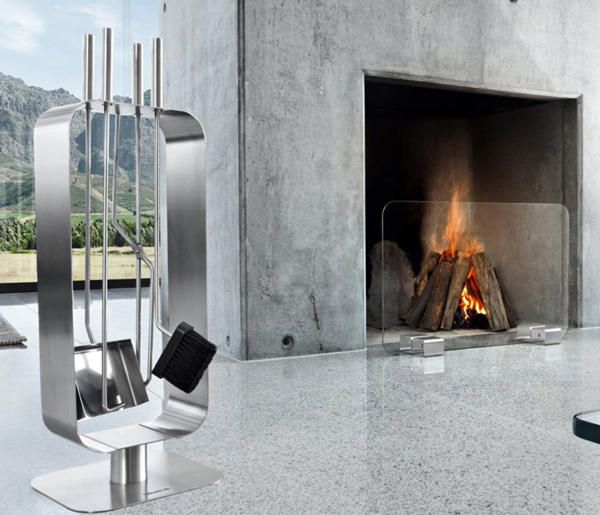 Savings with a Fireplace Set
Buying your fireplace accessories as an ensemble or set instead of as individual fireplace accessories is a money saving way to furnish a hearth!
Therefore, you can't go wrong by buying a fireplace set whose components are designed to blend harmoniously together.