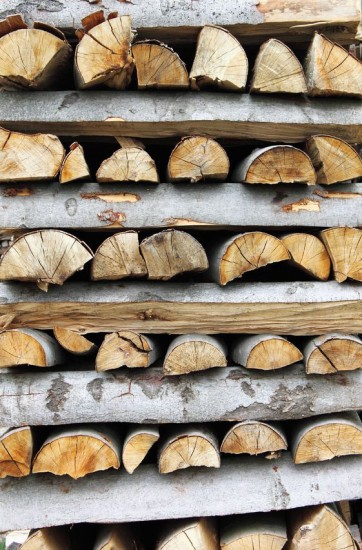 Properly stacked firewood dries more quickly and thoroughly than firewood just dumped in a heap.  Well-stacked firewood also prevents mold and termites from using your wood as a host.  So take a moment to learn how to stack firewood to get the most from your efforts and the wood.
How to Stack Firewood Outside
Split your firewood to help it season.
Splitting firewood exposes much more of the interior of the log to air circulation.  So splitting your fire logs into before you stack your firewood will hasten the drying process.  Wedges no larger than 6 inches wide are recommended by Burn Wise Program of the U.S. EPA.
Thoroughly dried, or seasoned, firewood is more energy efficient than unseasoned firewood.  Your fireplace fire doesn't have to expend energy burning of water instead of putting out heat.  Also, well-seasoned firewood produces less smoke than unseasoned wood.  That's better both for the environment's health and yours.
Pick out a spot for your firewood stack that gets plenty of sunlight.
Do not allow your firewood to lean against the house, garage, fence or other outbuilding.  Such structures not only reduce air circulation on one side of the stack but also allow termites' access from your firewood to the building or fence.
Elevate your firewood on a metal firewood rack.  Wooden racks or pallets resting on the ground can provide a termite-friendly medium.
Here's how to stack firewood to maximize drying and minimize smoky fires:
When stacking your firewood, place the split sides of all wedges downward.
To create the bottom layer of your firewood stack, line up firewood wedges parallel to each other from one end of the metal rack to the other.  For the second layer, turn all the firewood wedges 90 degrees.  The third layer will face the same direction as the first layer.
Build the firewood stack alternating the direction of each layer.
To dry kindling and tender, some firewood users devote the last foot or so of their firewood racks to the smaller pieces used for fire starting.  Like the larger wedges, these too can be stacked in layers that alternate directions.
Firewood experts recommend covering no more than the top 12 inches of your firewood stack with a weather resistant covering or tarp.  Leave the rest of the stack uncovered to allow good air circulation.
By protecting the top few rows of firewood from precipitation, you always have access to wood that has escaped the rain or snow, yet the rest of the stack continues to by dried by the sun and freely circulating air.
Hardwoods, which are recommended for your fireplace as they produce less creosote build-up in flues than softwoods such as pines, take up to a year to season.  See our list of the best types of firewood.
A full rack of firewood is a joy to behold.  It is tangible evidence of our preparation for the winter, of our reliance on nature, and of our hopes for cozy times in front of the fireplace.  Now if your purpose for stacking your firewood is creating wood stack art, that's a very different way to appreciate your firewood.
Traditionally, knowledge based on teachings and experiences about selecting and burning firewood was passed along verbally. Often such information was put into a rhyming format to make it easier to remember. Thus were born firewood poems and firewood songs to address the question, "Which Firewood Burns Best?" As with most things passed from generation to generation, […]