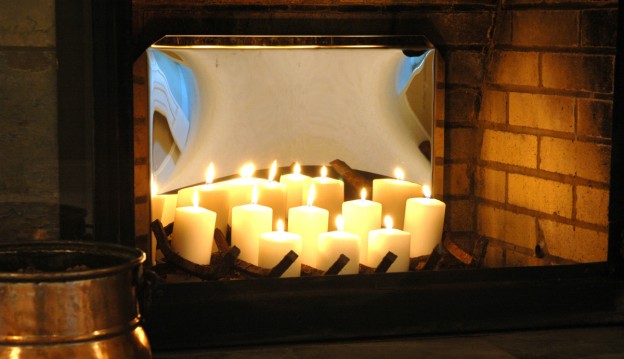 Firebacks reflect heat from your fire back into your home, making your fireplace more efficient.
Technology evolves over generations, but some simple innovations from the past just cannot be beat. One such time-tested essential is the fireplace fireback. Of all the many inventions over years to return more heat from a wood or gas fireplace, the fireback is the most cost effective. A fireback is a flat piece of metal—traditionally cast in iron—that sets against the back wall of the fireplace, either on the floor of the fireplace or on feet to keep it in place. Stainless steel firebacks have recently become more popular, giving a modern flair to the cast iron classic. And black stainless steel firebacks are the most recent take on firebacks.
More Heat from Fireplace Firebacks Made of Cast Iron
Firebacks cast from iron in molds have been used for centuries to improve the efficiency of fireplaces. Cast iron firebacks can increase the heat by as much as fifty per cent! They are made of thick, heavy cast iron, which allows them to not only reflect heat, but also retain it and radiate it over time. The larger and thicker the cast iron fireback is, the more heat it can store and radiate. Cast iron firebacks come in a variety of designs, including both traditional and modern motifs.
Cast iron firebacks have a classic look, so they're perfect for older or colonial style homes. Because cast iron is heavy, these firebacks weight a lot and can be difficult to move around. For more modern or easier to handle firebacks, consider one made of stainless steel.
More Heat from Fireplace Firebacks Made of Stainless Steel
The modern alternative, steadily becoming more widespread, is the stainless steel fireback. It is a sheet of stainless steel, tempered, gently curved and fastened to supports that will hold it in place inside the fireplace. It captures and radiates the heat of fire, too, but unlike the cast iron fireback, its surface is highly reflective. It doubles the light of the fire and makes the room appear much larger and brighter.
Stainless steel firebacks weigh only a fraction of iron firebacks the same size. Stainless steel firebacks are not, however, recommended for gas fireplaces, as they are so able to intensify heat that they can damage gas shut off valves.
Black stainless steel firebacks look more like the traditional cast-iron firebacks, without the shine of the stainless steel. They have a baked-on black paint. Because they have less reflective quality, they reflect less heat than the unpainted version. Nevertheless, because they are black and absorb more heat, they radiate more heat than the unpainted stainless steel ones.
You get warmth and heat from all of the types of fireplace firebacks. All have the potential to make the heating energy from your fireplace more efficient and save you money on fuel, although large, thick cast iron firebacks will store and radiate the most heat.  All will help protect the back wall of your fireplace from soot and erosion. Select the one that is best able to accommodate the specific look and style you want.
Click here to read What Size Fireback Do I Need?
A Halloween fireplace mantel scarf is the fabric drape that covers the top of the mantel. It provides the foundation upon which a Halloween themed mantel is created. The mantel scarf is to a fireplace mantel like a tablecloth is to a dining table: It sets the color scheme and theme. You can find a […]