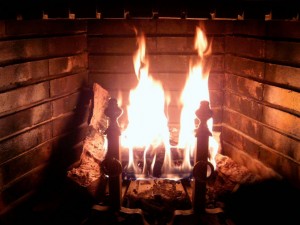 A fireplace is a wonderful addition to any room, emitting heat, light and ambiance making for a toasty and welcoming atmosphere. If you are thinking of adding a fireplace to your home, you may be wondering type of fireplace is best for you. Read on to learn about electric, gas, and wood fireplaces. Consider their pros and cons when choosing a fireplace to match your needs.
1.)   Choosing a Fireplace: Electric, Gas or Wood?
Electric fireplaces are the simplest to install, as they do not require a chimney. They will not give out real flames, but will instead simulate flames and put off heat. The heat quality of electric fires can be as good as real fires but they can really drive up your electric bill.
A gas fireplace can give real fire and can be installed quite easily into your space. Gas lines will have to be run to the fireplace by a qualified installer, however. The huge benefit of a gas fireplace, that you do not have with any other type of fireplace, is that you can have instant heat. With modern fireplace designs you can decide how you would like that heat to look; you can opt for anything from a simulated wood fire to a string of tiny flames. Using a gas fireplace as a major heat source can be expensive, though.
A wood fire will put off more heat and cost less to run than any other type of fire. A wood fire will also have the mark of authenticity with real and genuine crackles and sparks that will add to that fairy tale feeling of sitting next to the fire. Wood fireplaces require chimneys, of course, so installation costs can be considerable. If you'd like a wood fireplace but don't want to modify your home with a chimney, consider building an outside fireplace. They can be a wonderful place to gather around, and will add value to your home.
Wood fireplaces do require more maintenance, including yearly inspections by a chimney sweep. You'll also need to scoop out the ash every once in a while. Plenty of fireplace accessories are available to help you with this though.
2.)   Choosing a Fireplace: Considering the Aesthetics
Once you have decided on the type of fireplace that you want, your next decision will be the look of the fireplace. What are your aesthetic preferences? If you decide on a wood fire, then a stone or brick hearth is the classic choice. Gas and electric fireplaces come in a wide array of styles, from simulating a classic wood fire to sleek, modern appliances built out of stainless steel and glass.
How you accessorize your fireplace will have a large impact on the overall look and feel. There are many fireplace screens, tools and accessories that have a positive impact on the aesthetics of your fireplace as well as a practical impact.
The United States celebrates National Bioenergy Day each October. It recognizes and encourages the use of renewable and sustainable bioenergy sources. In 2021, National Bioenergy Day is October 20. When any organic material with few or no productive applications is used to generate energy, we call it "bioenergy." The biomass can be any organic low […]