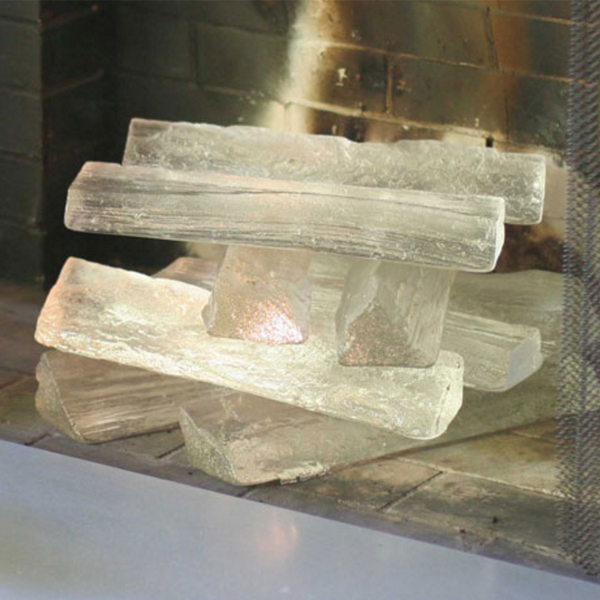 Crystal glass fireplace logs are a great alternative to real firewood when you don't use your fireplace during the warmer seasons or all year around if you don't use the fireplace at all. These dramatic glass or crystal logs work equally well in a classic, traditional room as they work in a modern, sleek room.
The intense contrast between the concept of earthy, substantial logs and the ethereal, delicate nature of glass and crystals makes one's brain do a double take! These seemingly incongruous concepts have been beautifully wedded.
There are multiple ways to achieve the look of crystal glass fireplace logs in your fireplace. Some are a good deal pricier than others. All have their wow-factor amplified by a small light source.
Top of the Line Crystal Glass Fireplace Logs
The Jeff Benroth glass logs shown at the top of this page are works of art. Each log is made by sand-casting a real piece of wood and then pouring molten glass into the negative of the casting. Each 15 inch long, 4 inch diameter glass log looks real because it was make from a real log. These glass logs were produced in a limited run of 500, and each is numbered and signed. Don't gasp too loudly when you see the price: $500. That's per log. The nine in the display would total $4500.
Glass-Like Selenite Crystal Fireplace Logs
Glass like crystal selenite logs have many of the visual properties of glass fireplace logs but at a much lower price point. Selenite is a form of gypsum that naturally occurs as transparent or semitransparent crystals. The word selenite comes from the Greek word for moon because it has moon-like properties. Folklore claims selenite crystals remove negative energy from a room, but all we are sure of is that they make impressive substitutes for real firewood.
These selenite logs come in 9.5 to 12 inch long pieces, well sized to smaller fireplaces. For larger fireplaces, you may need to buy twice as many. They cost about $25 a piece.
Selenite Crystal Fireplace Sculptures
Another alternative to glass crystal fireplace logs are selenite fireplace sculptures. They capture the glass-like quality of glass logs and the crystal properties of selenite logs.
Above is an awesome Selenite Crystal Fireplace Sculpture, 24 inches wide, 12 inches deep, and 15 to 18 inches tall. It is put together so votive candles can be tucked into it: When lit, they do indeed give a moon-like glow from within. The price is also awesome: $5,200.00! No, the decimal point is not in the wrong place.
You can create your own, dramatically less expensive, selenite fireplace sculpture by clustering these large selenite tower pieces (12 inch, 14 inch and 16 inch tall, running in the low $100s to the low $200s depending on size) with smaller (4 inch tall) selenite towers (about $8 each).
Add your own glass votive candles holders with candles, and  you have replicated the expensive selenite fireplace sculpture for a fraction of the cost.
Acrylic and Polycarbon Alternatives to Crystal Glass FireplaceLogs
Create a minimalist version of glass or crystal fireplace logs with clear, solid acrylic rods or clear tubes of polycarbon. These alternatives to firewood logs make a stunning display in a modern fireplace. Set them so you see the long sides, as you would firewood. Or up the drama by stacking them in the fireplace with the ends pointing toward the room.
Measure your fireplace and select or cut the tubes or rods into lengths appropriate for your fireplace, typically 12 inches to 22 inches long. To select ones that mimic actual firewood, go for outside diameters in the 2 to 6 inch range. If cost is an issue, smaller diameter ones are less expensive. Three inch diameter solid acrylic rods run about $65 per foot and 3 inch diameter carbonite tubes cost about $10 per foot.
Transparency of Glass + Crystalline Shapes
If you like the dramatic look of glass and the dynamic shape of crystals for your fireplace, here are two alternatives to crystal glass fireplace logs.
Each side of these handmade glass dodecahedrons is a five-sided pentagon. One side is open. The smaller one is 7 inches and the larger one is 9  inches. Together, they cost about $140 including shipping. Depending on the size of your fireplace,  you may need more than two.
Make your own, DIY version with these 5 inch glass "cubes". One side is open, and a seventh side tilts the cube. Cluster several of them to replicate the more expensive look of the handmade dodecahedrons. They are only $16 for one cube. Complete the look with mini-globe lights.
TIPS for Using Crystal Glass Fireplace Logs
Whether you are filling your fireplace with glass fireplace logs or selenite fireplace logs, crystal selenite fireplace sculptures or glass polyhedrons, keep these two things in mind:
Play up the unique qualities of glass and crystals by adding a light source.
Candles, mini-lights, small LED up-lights, or even wireless stick-on lights can do the job. Place them behind and within your display, not in front of it.You won't need lots of light. Keep it small. Too much light can diminish the effect.
Elevate a small arrangement.
If you find your display looks too small for the size of your fireplace, elevating it by placing it on a clear glass or acrylic box or display base can magnify its effect. Add a small up-light source inside the box.
Let us know how you've used any of these looks in your fireplace!
A Halloween fireplace mantel scarf is the fabric drape that covers the top of the mantel. It provides the foundation upon which a Halloween themed mantel is created. The mantel scarf is to a fireplace mantel like a tablecloth is to a dining table: It sets the color scheme and theme. You can find a […]