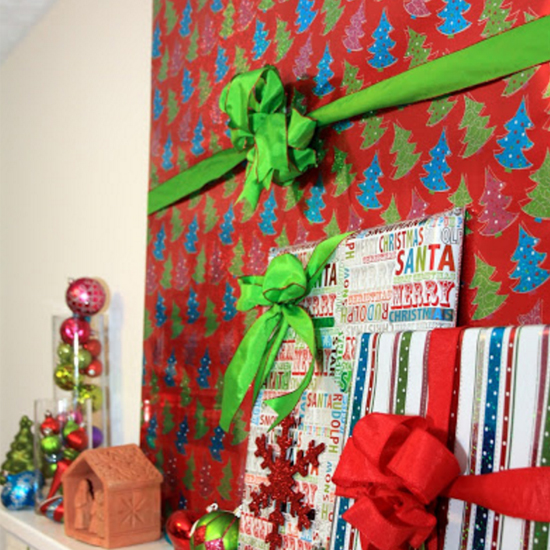 What to do with the television above the fireplace, or other existing wall decorations, when you decorate for Christmas.
You've put a good deal of thought into the selection and placement of your wide-screen TV, mirror or other artwork over the fireplace mantel. As Christmas approaches, you don't really want to have to take it down to have a holiday-inspired mantel. Instead, here's how to camouflage or transform existing above-the-fireplace televisions, mirrors and artwork to incorporate them into your Christmas decorating scheme. Add a layer instead of removing the existing TV, mirror or wall art above the mantel.
How to Hide Fireplace TV for Christmas Decorating
You have two options here: camouflage the TV so it becomes part of your Christmas decor and becomes unusable for the holidays or (more popular) camouflage the TV only when it is not in use.
For the first option, cover the over-the mantel television in Christmas wrapping paper and add ribbons and a bow. Cluster other wrapped gifts and Christmas balls on the mantel, and your holiday fireplace is ready for everything except watching TV.
The second option is to hide fireplace TV for Christmas as a gift wrapped present, but in a way that allows you to "unwrap" it for television viewing.  Add Velcro to the back edges of the TV and to the ends of a large piece of burlap or other holiday themed fabric. Staple or sew the ribbon and bow onto the fabric. To hide fireplace TV for Christmas, cover the television with the fabric, attaching it with the Velcro.
When it's time to watch TV, simply un-Velcro one side of the fabric and roll it. (That makes it easier to reattach than completely removing it from the television altogether.)
How to Incorporate Existing Fireplace Mirrors into Christmas Decorating
Removable vinyl decals with Christmas quotes and designs are sure to match your holiday spirit and your existing home decor. Use one of these quotes on your existing fireplace mirror.
Select a quote that speaks to you, in a font style that enhances the look you are going for, and in a color that respects the mirror's frame as well as your holiday decorating colors.
Note how the red echos the red in the lanterns and candles.
Th black lettering matches the mirror frame.
A more traditional way to incorporate an existing mantel mirror is simply to add a wreath to it.
 Deck out Existing Fireplace Wall Art for Christmas
Sometimes the easiest way to transform existing fireplace wall art for Christmas it to add hanging individual letters that spell out a short holiday word such as JOY, NOEL, or JOLLY. The example below uses a tryptych or three-panel work.
Another option is to wrap the existing fireplace art work as a present, just as the televisions at the top of this post are gift wrapped.
There is no need to remove the wide screen television from above the fireplace or take down the existing fireplace mirror or wall art to get the fireplace decorated for Christmas. Add a holiday inspired layer – whether gift wrap, wreath, hanging letters or removable Christmas vinyl decals – instead.
Ugly Christmas sweater party on your calendar? Or looking for a unique and fun way to celebrate the holidays? Maybe you enjoy keeping your friends and coworkers entertained. Fireplace sweaters let you take the hearth glow wherever you go. So light up that Ugly Christmas Sweater Party or a cozy night in with bright dancing […]