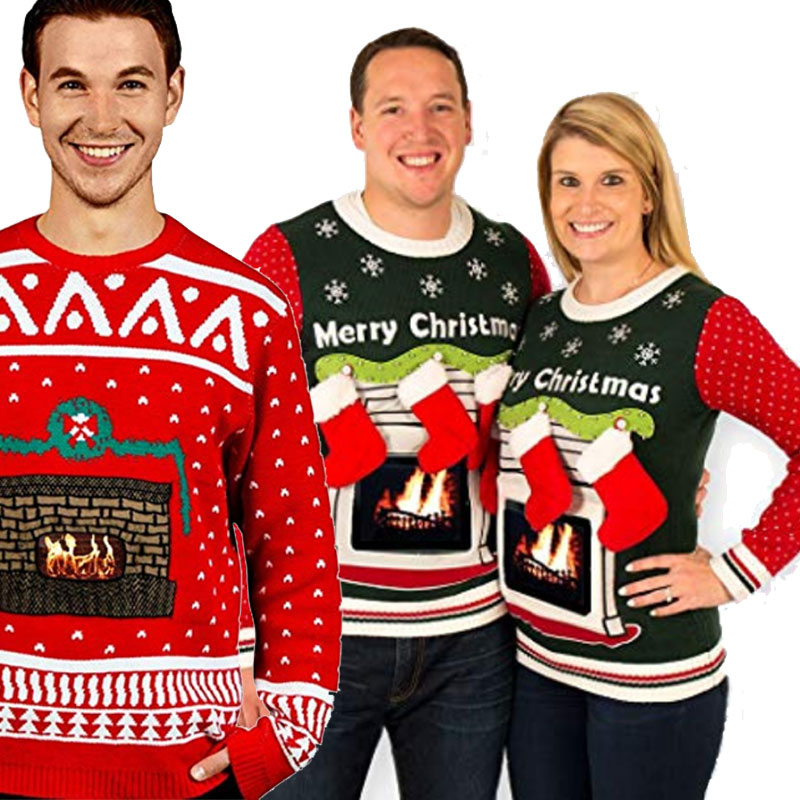 Ugly Christmas sweater party on your calendar? Or looking for a unique and fun way to celebrate the holidays? Maybe you enjoy keeping your friends and coworkers entertained. Fireplace sweaters let you take the hearth glow wherever you go. So light up that Ugly Christmas Sweater Party or a cozy night in with bright dancing flames on your Christmas fireplace sweater.
Three Types of Fireplace Sweaters
Although they are made for children and adults, men and women, and in different holiday colors, there are three basic types of fireplace sweaters:
Phone or Tablet App Fueled Fireplace Christmas Sweaters
The only thing these fireplace sweaters are missing is the heat from the flames and the smell of a burning fire. Apps give you vivid videos of actual fireplace fires and come complete, if you like, with the crackling sound of the flames! Simply slip your cell phone or tablet into the secure pocket. Then turn on a fireplace app. Instant fun and amusement!
The tablet-sized fireplace sweater makes a huge statement! The clear pouch will hold any tablet up to 9 7/8 inches wide and 7 inches tall. Three snaps along the top of the pouch securely hold your tablet. Tiny, real jingle bells adorn the mantel garland.
Three actual stockings button onto the tablet fireplace Christmas sweater, so you can remove them if you like. We prefer to fill the mini-stockings with holiday appetizer picks for easy snacking or tiny miniature candy canes for gifting.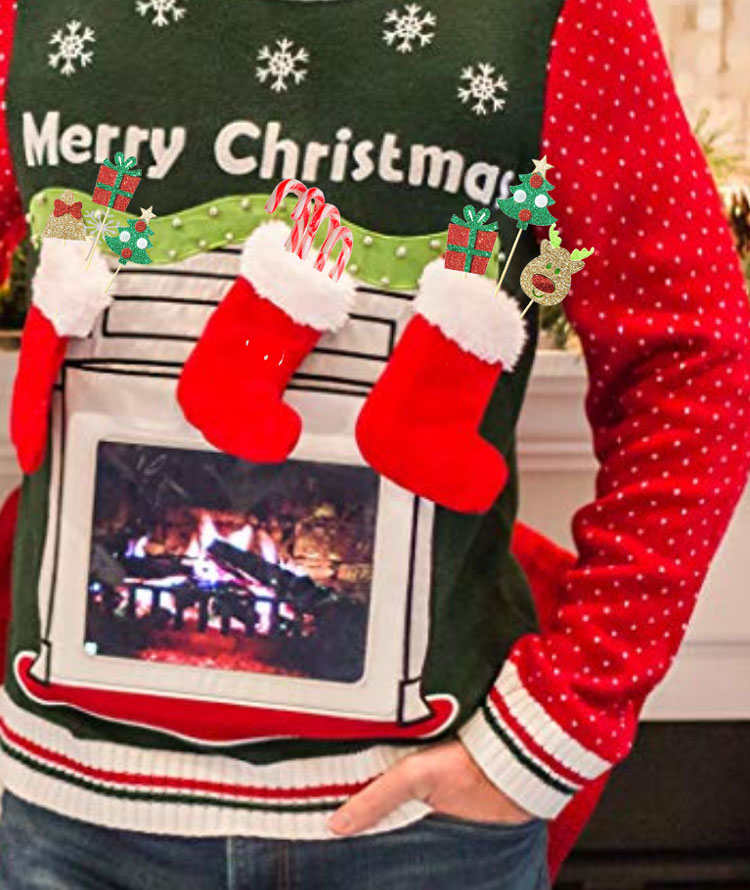 For an equally dramatic but lighter weight option, we are all in for the cellphone sized Morphsuits Digital Dudz crackling fireplace sweater for men or women!  Cellphones smaller than 5 inches fit into the pocket. Download the app that comes with it or another fireplace app if you prefer.  If the crackling of the fire amuses you, enjoy it. But you can also turn off the sound if you find it annoying.
The cellphone fireplace sweater is available in pink or green, in addition to the Christmas red edition.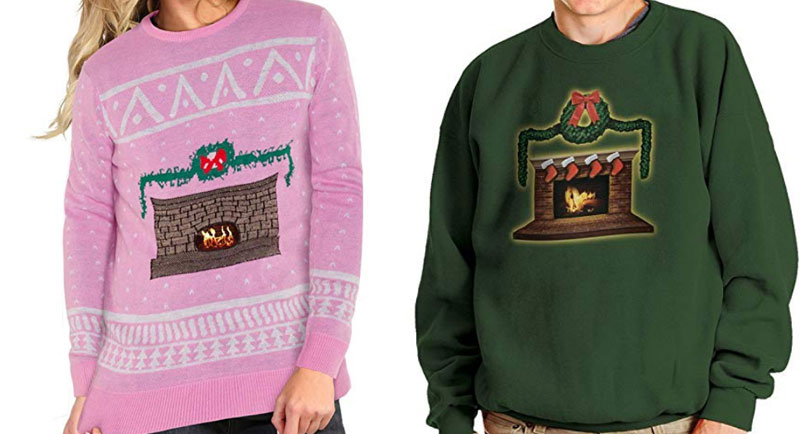 An advantage of these cellphone fireplace sweaters is that you have instant, hands-free access to your cellphone. No extra pockets or purses required.
LED Lit Fireplace on Sweaters
These sweaters do not have the realistic look of the phone or tablet app fireplace sweaters. Nevertheless, they light up, twinkle, and bring smiles to all who see you wearing one. Most allow you a choice of light and flame displays.
Animated fireplace sweater has an LED fire with three nested flames that glow from small to medium to large. The acrylic, unisex sweater requires 4 AAA batteries.
The fun of the fireplace sweater below is that it is motion activated!  Whenever you move, the flashing lights within the sweater twinkle.
This Cheesy Fireplace Sweater has a flame that lights up with tiny, fun lights!
It's Just a Graphic Fireplace Sweater
No bells or whistles or lights or action: You just want an ugly Christmas sweater with a simple fireplace graphic. No problem!
Or maybe sweaters are not your thing. If you are more of a t-shirt type, you have not been left out. Ugly Christmas fireplace t-shirts are a less expensive option, and are a comfortable wear even in the tropics!
If a fireplace sweater is the only fireplace in your life, consider adding a cardboard or vinyl cling fireplace to your home.
So wear your fireplace this holiday season. In summary, a fireplace sweater or t-shirt, whether with or without animation or light or sounds, is as fun to wear as it is for others to see you wearing.
The United States celebrates National Bioenergy Day each October. It recognizes and encourages the use of renewable and sustainable bioenergy sources. In 2021, National Bioenergy Day is October 20. When any organic material with few or no productive applications is used to generate energy, we call it "bioenergy." The biomass can be any organic low […]