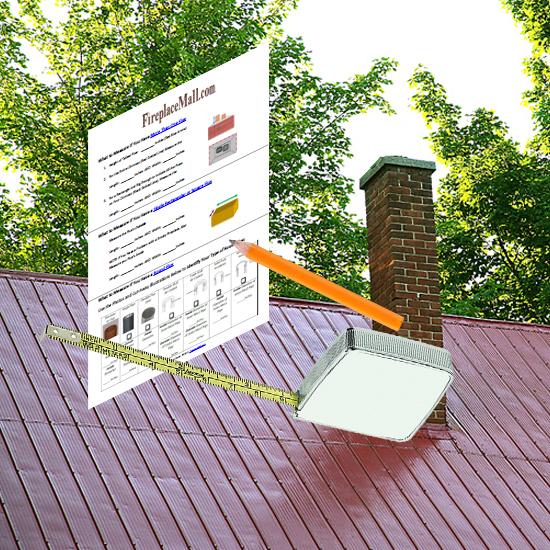 The FireplaceMall.com

Chimney Cap Easy Measure Guide 
Considering a chimney cap but unsure how to get the correct size or style your flue needs? This chimney cap measure guide addresses those issues so you can make just a single trip onto the roof and get all the information you need. You will be assured you are getting the type of chimney cap designed to ventilate your flue safely and a correctly sized chimney cap.

Follow these easy steps:
1.    Download the easy to use Chimney Cap Measure Guide.
2.    Take the Chimney Cap Measure Guide, a pencil and a metal measuring tape up on the roof with you to your chimney.
3.     Use the images on the Chimney Cap Measure Guide to identify which type flue you have and what measurements you need to get the correctly sized chimney cap.
4.     Take the indicated measurements with the metal measurement tape and write the measurements in the blanks right on the Chimney Cap Measure Guide.
5.     Now you have the information you need to purchase the appropriate style and appropriate size chimney cap, whether you are purchasing one from a local hardware store, big box store, or online store.
Remember: Using an inappropriate style of chimney cap or one that is not correctly sized to your flue can create the risk of a chimney fire. For example, a round flue with more than one concentric pipe is designed to be cooled by air that circulates in the spaces between the pipes. The wrong type of chimney cap will inhibit that cooling effect. Another risk of an inappropriate style or size of chimney cap is your fireplace not drafting correctly, resulting in a smoky room when you light your fireplace.
With the Chimney Cap Easy Measure Guide, no prior chimney technical knowledge or specialized industry vocabulary is required. If you can match a picture of a flue to the flue or flues you see on your chimney, you can now get a safe, appropriate, correctly sized chimney cap or chimney caps for your home.
5 Ways to Prevent Chimney Leaks A leaking pipe, a leaking roof, a leaking window, a leaking chimney – none of them is good. Here are 5 ways make your chimney leak-proof and prevent chimney leaks. See  how to fix chimney leaks and prevent them  in, through and around your chimney. #1 Way to Prevent Chimney Leaks: Install a […]