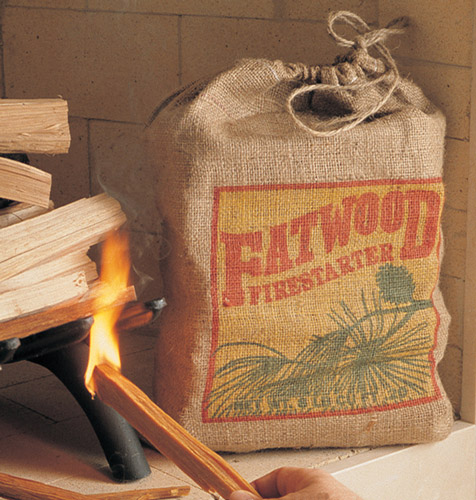 Rid your hearth of that pile of newspapers, that unsightly stack of kindling sticks, and the toxins produced by chemical fire starters. Plus, become a fireplace fire-starting wizard! Let nature's perfect kindling, fatwood, start your fireplace, wood burning stove, coal or pellet fuel stove, campfire, BBQ, or chiminea fires more quickly and with much less hassle and mess.
Fatwood is a totally natural product. Unlike chemical fire starters, liquid flammable fire starters, or flammable pressboard pieces, it contains no preservatives and releases no harsh additives or toxic chemicals into your home when you start a fire.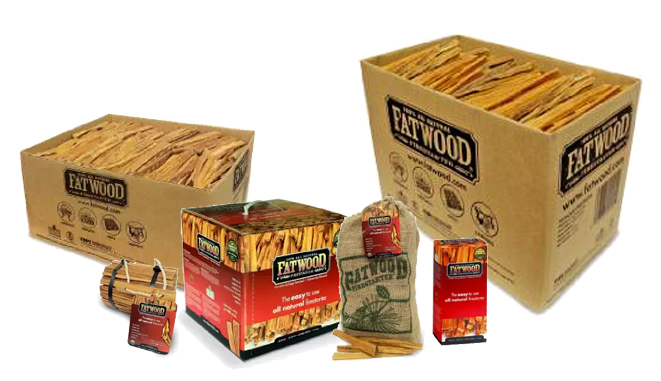 Fatwood sticks are available in the following size packages: 1.5 pounds, 5 pounds, 10 pounds, 25 pounds, 35 pounds, and 50 pounds.
What Is Fatwood?
The base of pine trees naturally collects the clean burning, highly combustible, resinous sap or pitch from the tree. Through a natural aging process, when the pine tree is chopped down or dies naturally, the remaining stump is loaded with wood that has this concentrated pitch. Fatwood is harvested from these stumps that are "fat" with pitch, and cut into convenient pieces about 8 inches long and about ¾" in diameter.
One or two of these sticks of fatwood and just one match is all you need to start a fire. The fatwood has a quick burning, sustainable flame, enduring enough to get your logs or other fuel burning well.
Made from a Renewable Resource
Fatwood is environmentally friendly. Not only does it not contain harmful chemicals, but also it is made from a renewable, non-endangered resource. The pine tree stumps from which it comes are a byproduct of the lumber industry, sections of the tree that would otherwise be unused.
Fatwood Features
Fatwood needs no pampering! It can be kept outside in the rain and snow and still light with a single match! It is impervious to insects and has an unlimited shelf life.
Low maintenance, inexpensive, clean-burning, 100% natural fatwood replaces all the mess of starting fires with newspaper or other kindling. Attractive fatwood caddies are available in a variety of styles, from informal wooden crates and buckets to decorative baskets and holders in iron or copper.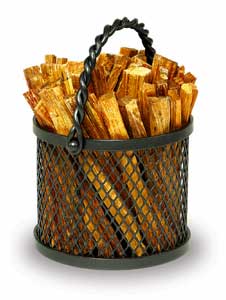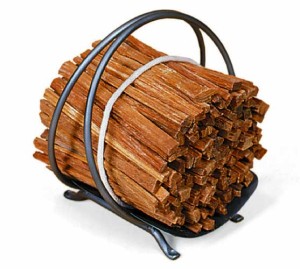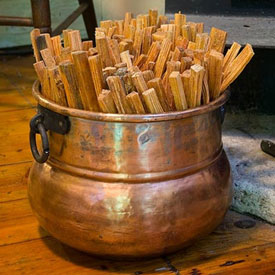 Traditionally, knowledge based on teachings and experiences about selecting and burning firewood was passed along verbally. Often such information was put into a rhyming format to make it easier to remember. Thus were born firewood poems and firewood songs to address the question, "Which Firewood Burns Best?" As with most things passed from generation to generation, […]