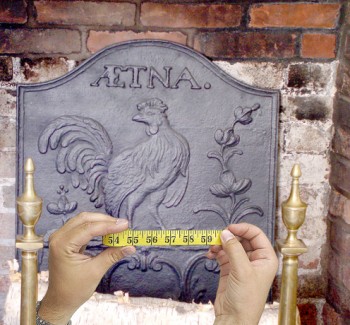 There are three factors to consider and two measurements to take when pondering what size fireback would be properly sized for your fireplace:
• Improving the heat efficiency of your fireplace
• Aesthetics
• Safety
You can select a fireback up to the width of your fireplace's back wall.  (Sometimes that is the same width as your fireplace opening and other times the firebox tapers, so the back wall is narrower.)  If for example, the back wall of your fireplace is 22 inches wide, you can safely use a fireback up to 22 inches wide.
The height of your fireback can up to 3 inches shorter than the fireplace opening. Your fireback should not extend into the flue opening as it may interfere with the damper or cause the chimney not to draft properly.  The 3 inches accounts for the maximum the fireback stands will raise the fireback off the fireplace floor.
A cast iron fireback absorbs heat and radiates that heat back into your room.  Larger and thicker firebacks absorb and radiate more heat and stay warm longer than smaller or thinner firebacks.
Depending upon its size and thickness, a fireback can increase the efficiency of your fireplace by as much as 50%.
Cast iron firebacks are often embellished with a decorative motif, such as images of flora and fauna or family crests, in simple or ornate designs. They also come in a rectangular, square and arched shapes and have long been admired for their aesthetic value.
Stainless Steel firebacks in either a matte finish or a polished mirror finish have reflective surfaces that add an additional element of brightness when placed behind your fire. You can create drama and twice the light by pairing a stainless steel fireback with a fireplace candelabra.
Black stainless steel firebacks are also available. The are made of stainless steel but have a black, baked-on, heat-resistant paint. They combine the benefits of stainless steel with the aesthetics of the black cast iron ones.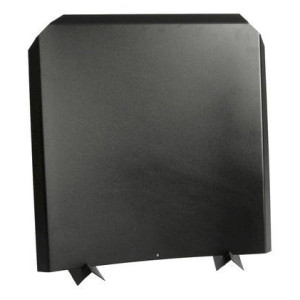 When used primarily for its aesthetic value, it is not uncommon for there to be 3" to 10" of exposed back wall of the fireplace on either side of the fireback. Sizing for aesthetics is simply a matter of personal taste.
Does Your Fireplace Back Wall Slant?
If the back of your fireplace is perpendicular to the floor, a heavy cast iron fireback can lean against the back wall of the fireplace; however, for optimum safety and to obtain a better view of your fireback, Saf-T-Boots or fireback stands are recommended.
Because they are light weight, stainless steel firebacks should always be secured with legs or mounting brackets to prevent them from sliding or falling forward pushing burning logs into your room.
Many fireplaces have back walls that angle inward. To insure proper balance use Saf-T-Boots to hold your fireback at the desired angle. Stainless Steel firebacks are sold with slotted legs to securely hold the fireback either straight up or angled forward.
To insure your fireback is sized properly, remember that although your fireback may be as wide as the back wall of your fireplace, your fireback – including the height the stands add – must always be shorter than the fireplace opening.
The featured photo at the top of this page shows the Atena Rooster Fireback  by Pennsylvania Firebacks in the Withdrawing Room fireplace of Powell House in Philadelphia. Photo by Pennsylvania Firebacks.
The United States celebrates National Bioenergy Day each October. It recognizes and encourages the use of renewable and sustainable bioenergy sources. In 2021, National Bioenergy Day is October 20. When any organic material with few or no productive applications is used to generate energy, we call it "bioenergy." The biomass can be any organic low […]