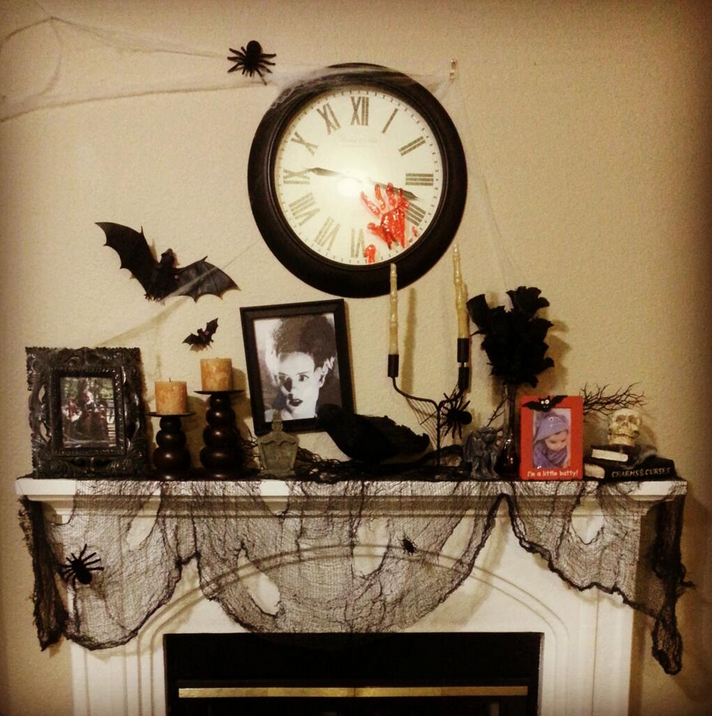 Halloween fireplace decorating becomes more popular each year. Americans spend 6.9 billion dollars on Halloween in 2015 . Folks are celebrating the holiday with more than costumes and candy; they are investing in Halloween-themed home decorations, including Halloween fireplace decorating.
But not all Halloween fireplace decorating requires a financial commitment. More often, a bit of ingenuity coupled with a playful, perhaps ghoulishly slanted spirit are all that are required.
Find inspiration for your Halloween hearth, mantel and fireplace in these 12 Halloween fireplaces that range from the simple and quick to the simply awesome!
Halloween Fireplace Decorating for the Mantel
1.  The lit Halloween houses on this fireplace mantel are adorable. But it is all the little details that make it enchanting! Notice the small pumpkins, miniature sheathes of wheat, spooky black trees, and of course the tiny flying bats that complete Aimee's fireplace mantel. Even the dark wall adds to the total effect.
2. Traditional mantel accessories (candles in holders, framed pictures, a vase of flowers, and a clock above the mantel) get the full-on Halloween, spooky treatment in the mantel below. Don't miss the vase of black roses, creepy spiders and bats, and (our favorite!) the bloody hand print on the round black clock.
3. This batty fireplace is a real eye-catcher! The mantel shelf holds a display of while pillar candles and a small autumnal arrangement. But the glory goes to the flying bats! Using a bat template, cut bats out of black cardstock, fold their wings, and attach them in flight formation from the fireplace, to the mantel, to the ceiling with sticky tack. Or get a ready-made set of cardboard bats.
4. Want something quick and simple, but dramatic? A garland of lit pumpkins draped from your mantel gives instant Halloween appeal. Just plug them in, light the fireplace, and dim the room lights!
5. Here's a minimalist mantel decoration with maximum Halloween impact! One life-size human skull displayed with striking lighting creates an eerie, can't-look-away mantel display.  Add a scene from a scary movie, and your blood may chill.
6.  An autumn mantel of pine cones and pumpkins gets jacked up for Halloween with the addition of cobwebs and skeleton. The children can help decorate by adding Halloween cling-on stickers to the mirror above the mantel.
Halloween Fireplace Decorating for the Hearth
The hearth is the section right in front of the fireplace that provides protection for your floor. Sometimes the just decorating the hearth is sufficient for giving your home that Halloween vibe.
7.  Pumpkins, candles, and flowers in fall colors adorn this charming Halloween hearth. This hearth decór leans more toward the romantic than the spooky. But even goblins and witches appreciate starry-eyed moments.
8, 9, and 10.  One or more jack-o'-lanterns on the hearth , artfully arranged, is all that's really needed to give your fireplace that Halloween spirit. The three hearths below all feature pumpkins with carved faces, the most traditional of all Halloween icons!
 A grinning jack-o'-lantern on the hearth signals Halloween.
Photo courtesy http://twitter.com/jim_devitt

A mix of pumpkins and "extreme" carving jacks on the hearth of this
modern fireplace bring on the Halloween spirit.
Photo courtesy http://twitter.com/HiImRachelll
A trio of cleverly carved jack-o'-lanterns grace the hearth of an antique, cast iron
and tile fireplace. Photo courtesty http://twitter.com/Beauty_fulRose
Halloween Fireplace Decoration – From Top to Bottom
For some, simply decorating the fireplace mantel or the fireplace hearth is not enough. The decorators whose fireplaces are shown below love to go all-out for Halloween!
11.  Ghosts galore! Lighted ghost figures and spooky white cobwebs decorate this whole fireplace, from mantel to hearth, creating an otherworldly Halloween display.
12.  This awe-inspiring Halloween fireplace has it all! Katie is the neighbor we all wish would come decorate our fireplace! She may have bought out the Halloween accessories at every store in town, from Halloween mantel scarf to black crows, but she knows how to arrange it all artistically with equal measures of whimsy and talent.
BOOOO-tiful Halloween fireplace has it all! Photo courtesy http://twitter.com/katiekupaloop
A Note of Caution to Halloween Fireplace Decorators: Be mindful of fire safety  and keep flammable items away from candle or fireplace fires.
Sources: 
http://www.pumpkinpatchesandmore.org/halloweenfacts.php
https://nrf.com/resources/consumer-data/halloween-headquarters

Ugly Christmas sweater party on your calendar? Or looking for a unique and fun way to celebrate the holidays? Maybe you enjoy keeping your friends and coworkers entertained. Fireplace sweaters let you take the hearth glow wherever you go. So light up that Ugly Christmas Sweater Party or a cozy night in with bright dancing […]