Over 85 percent of homes in America have at least one smoke alarm. But one in three smoke alarms is not functioning! The goal of Fire Prevention Week 2014 (October 5-11) is to make it easy to remember to test your smoke alarms each month.
Simply download the Test Your Smoke Alarm Every Month Calendar. Cut it out; tape it somewhere convenient; and check off each month on the calendar when you test your smoke alarms.

Fire Prevention Week 2014 Theme
Every year a theme is chosen for Fire Prevention Week to focus public attention on fire safety in the home and business place.  The theme of National Fire Prevention Week 2014 (October 5-11) is "Working Smoke Alarms Save Lives:  Test Yours Every Month."
The key word there is WORKING.  Smoke alarms with dead batteries cannot keep you and your family alive. And smoke alarms older than than 8 years may no longer work properly. Have no idea how old your smoke alarms are? Their date of manufacture is printed on them. If yours has no date, then it was made before manufacturers were required to include the date  – so it has definitely expired, and it's time to get a new smoke alarm.
How to Test a Smoke Alarm
Testing smoke alarms is really very easy:
Use a yardstick, umbrella or broom handle to push the little TEST button on each smoke alarm.  If you don't hear a loud beep, change the battery.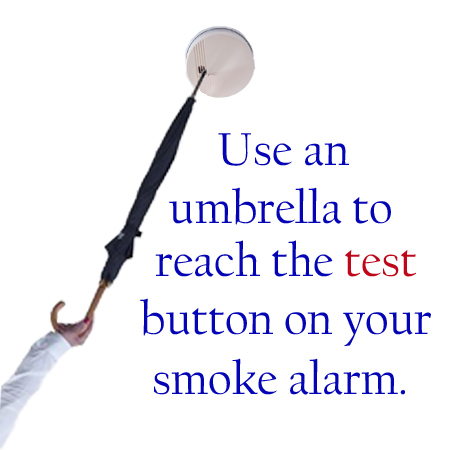 The National Fire Prevention Association (NFPA) is the nation's leading authority on fire prevention.
NFPA says to install smoke alarms
in every bedroom,
outside each sleeping area and
on every level of your home.
A working smoke alarm is the cheapest and best life insurance you can buy. So get your NFPA Test Your Smoke Alarm Every Month Calendar.

  Working Smoke Alarms Save Lives. Test yours every month. [tweet]  
Ugly Christmas sweater party on your calendar? Or looking for a unique and fun way to celebrate the holidays? Maybe you enjoy keeping your friends and coworkers entertained. Fireplace sweaters let you take the hearth glow wherever you go. So light up that Ugly Christmas Sweater Party or a cozy night in with bright dancing […]