You may not use your fireplace as often when springtime's warm weather comes, but the fireplace nevertheless remains the focal point of your room.  So be inspired by the variety of color schemes, arrangements and materials in these Easter mantel decorations to create your own springtime fireplace decor.
Blues and White Easter Mantel Decorations
Springtime blues and crisp white, a classic color scheme, combine on this Easter themed fireplace mantel.  The gold of the mirror's frame is repeated within accents in the arrangement. And the springtime yellow of the wall gets picked up in the flowers. Hydrangeas appear not only on the mantel but also on the summer hydrangeas fireplace screen.
Pinks and Greens Easter Mantel Decorations
A green mantel scarf grounds this Easter mantel. The vintage Shirley Temple doll and friendly stuffed rabbit, both with pink, lighten up the theme.  The pink is carried through the in flowers and the trio of stemmed candle holders.  The little chick seated on the edge of the mantle is a whimsical touch!
Springtime Butterflies Above the Mantel
TheSeasonalHome has used paper products – from ribbon to scrapbook paper – to bump an Easter mantel from good to GREAT! The yellow and white gingham ribbon accents the white mantel and is reiterated on the rim of the yellow flower pot.  And the paper butterflies! Their diagonal flight-path counterbalances the strong vertical lines of the white candle holders and picture frame.
 Easter Fireplace Garland
The antiqued mirror above the mantel was the inspiration for the mercury glass candle sticks and vase.  The gold trim on the mirror is repeated on the frame of the cleverly created chalkboard platter as well as in the garland.  TheGoodLifeBlog has created a simply elegant and inspiring Easter fireplace mantel!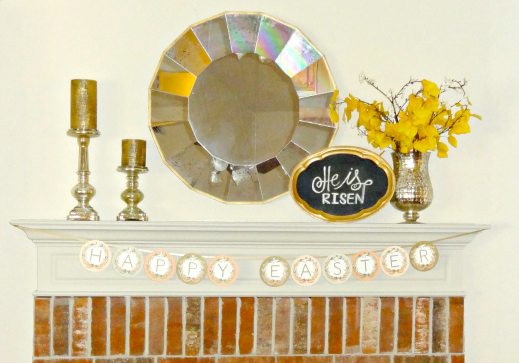 Easter Fireplace Candelabra for Inside the Fireplace
If you won't be using your fireplace at all this spring, a fireplace candelabra can not only create an Easter vibe but also keep your fireplace from suffering from Black Hole Syndrome.  Just fill the candelabra with  candles in pastels that will work with your room or with Easter egg shaped candles.
This adjustable width Olivia Candelabra can be used either on the fireplace mantel or inside the fireplace.
Looking for still more ideas for decorating your fireplace mantel for Easter?  Here are some super quick way to turn your fireplace mantel into an Easter or springtime display.
Ugly Christmas sweater party on your calendar? Or looking for a unique and fun way to celebrate the holidays? Maybe you enjoy keeping your friends and coworkers entertained. Fireplace sweaters let you take the hearth glow wherever you go. So light up that Ugly Christmas Sweater Party or a cozy night in with bright dancing […]