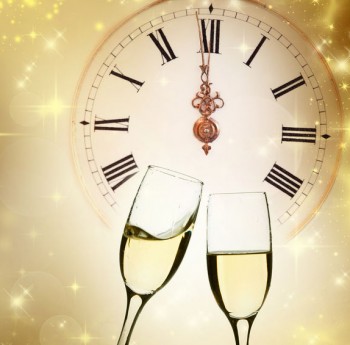 The mantel decorations that looked so very right for Christmas seem out of place for celebrating New Year's Eve and New Year's Day.  Here are four really quick, simple fireplace mantel decorations for New Years that require only a group of clocks or only the four numerals of the new year:
 Clock Mantel Decorations for New Years
Gather clocks from around the house – everything from old alarm clocks to kitchen wall clocks.  Set each clock for almost midnight and arrange them on the fireplace mantel.  It's simple but a real eye-catching way to welcome in the new year.
 Hanging Numerals Mantel Decorations for the New Years
Did Christmas stockings adorn your fireplace?  Simply reuse four of the stocking holders to hang craft numerals of the New Year!  The switch-out takes but moments.  The fireplace above uses silver numbers, accenting the grays in the wall and hearth, but feel free to use anything from cardboard cutouts to rustic wooden numbers, depending on your decor.  If there are candles and evergreens on top of the mantel, just leave them there through the New Year's celebrations.
Mirror Magic Mantel Decorations for New Years
Inspired by CreatingCupcakes' 2011 New Year's fireplace mantel, the one above uses the mantel mirror as an important component of the New Years decorations.  Note that the decorations hanging from the mantel, the mirror frame, and the numbers for the year all carry through on a gold and silver color scheme.
If you have an existing mantel mirror, consider placing numbers for the New Year either in front of it (as above) or hanging from the the top of the mirror's frame with fine thread or mono-filament line.
Using Picture Frames for Mantel Decorations for New Years
Give each number of the new year its own picture frame.  Use similar frames (such as all wooden frames, or all antique frames, or all white frames) or identical frames to get the look you want.  Note how you can position the frames so they are slightly overlapping or so they are meticulously, evenly  spaced along the mantel.
We like the drama of white numbers on a black background, but that can use up a good deal of printer ink.  Instead, print out white letters, cut them out, and paste them on a black background.
Since these framed numbers are not permanent decorations, you don't even need to add glass to the frames.
Soften the look of the photo-framed numerals by unrolling streamers that work with your New Year's color scheme and loosely cluster them on and among the frames, allowing ends to dangle casually off the edge of the fireplace mantel.  Or sprinkle confetti on the frames and mantel.
Simplify decorating a fireplace mantel for New Years with any of these quick ways to welcome in the New Year.  We'll toast to that!
Ugly Christmas sweater party on your calendar? Or looking for a unique and fun way to celebrate the holidays? Maybe you enjoy keeping your friends and coworkers entertained. Fireplace sweaters let you take the hearth glow wherever you go. So light up that Ugly Christmas Sweater Party or a cozy night in with bright dancing […]