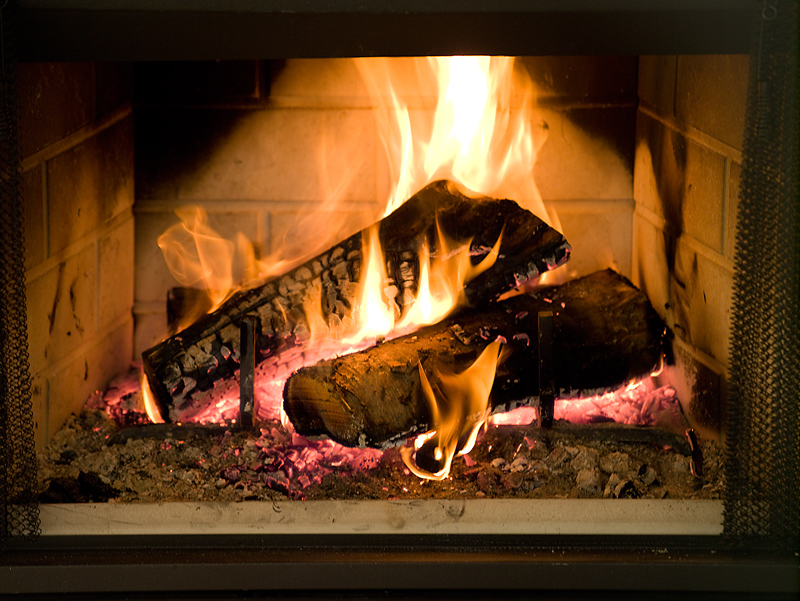 You don't have to be an Eagle Scout to start a fire in your fireplace. You just have to use a tried and trusted method.
How to Start a Fire – Step by Step
Make sure the damper is open. It may be located inside the firebox or at the top of the chimney.
Crumple 2-3 sheets of black and white (not color) newspaper and place them on the fireplace grate.
Put a handful of tinder on top of the newspaper. Slivers of pine wood, or fatwood make the best tinder.
Criss-cross 6 or 8 pieces of kindling–dry hardwood, about 1 inch square by 1 foot long, on top of the tinder.
Twist together two sheets of newspaper, light them and hold them up inside the fireplace to get an upward flow of warm air started.
Light the newspaper under the kindling in 2-3 places with fatwood, a fireplace lighter, or fireplace matches.
When the kindling is burning well, add 2-3 pieces of split, seasoned firewood. (Later, add more firewood as needed.)
Let your fire breathe: leave space between the logs for air to flow.

Since the beginning of time, people have found lighting the communal fire a rewarding experience. As you start a fire in your fireplace, seeing those first flickers of flame grow into a sustainable fire will, no doubt, be rewarding for you, too.
Traditionally, knowledge based on teachings and experiences about selecting and burning firewood was passed along verbally. Often such information was put into a rhyming format to make it easier to remember. Thus were born firewood poems and firewood songs to address the question, "Which Firewood Burns Best?" As with most things passed from generation to generation, […]