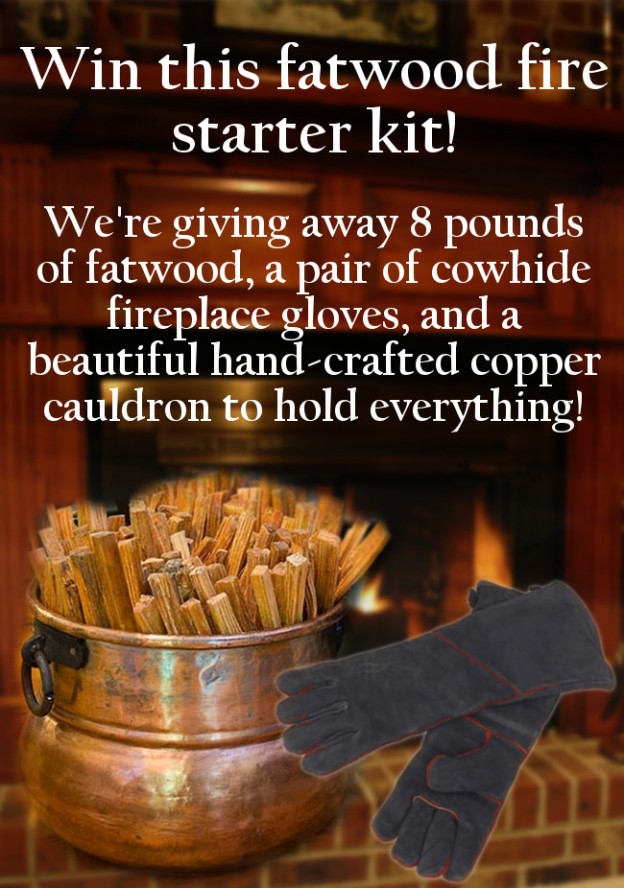 Start your fires in fashion this winter! We've giving away 8 lbs of fatwood, a hand-crafted copper cauldron, and a pair of heavy-duty cowhide fireplace gloves for the ultimate fatwood fire starter kit giveaway!
Fatwood is one of the best natural firestarters available.  Loaded with energy-rich resin, just one or two strips of fatwood can have a fire roaring in no time. As an added benefit, fatwood has a wonderful, rich smell. This 8 lb bag contains 80-120 sticks, plenty to last the season.
Along with the fatwood we're including these heavy duty cowhide fireplace gloves. These gloves are a full 19 inches long, providing plenty of coverage, and are heavily insulated to protect you from the heat of the fire. No more nervous feeding of the fire; just don these gloves and set the logs in with confidence.
And of course you'll want something stylish in which to store your new fatwood and fireplace gloves. That's why we're giving away this gorgeous hand-crafted copper cauldron.
Enter below to win this $300 value Fire Starter Kit Giveaway!
Ugly Christmas sweater party on your calendar? Or looking for a unique and fun way to celebrate the holidays? Maybe you enjoy keeping your friends and coworkers entertained. Fireplace sweaters let you take the hearth glow wherever you go. So light up that Ugly Christmas Sweater Party or a cozy night in with bright dancing […]