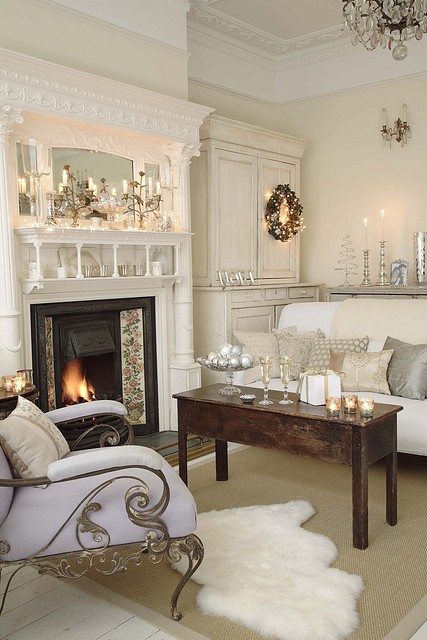 Snow is capable of turning the most ordinary of settings into a magical wonderland, including your holiday fireplace mantel. Take a look at the elegant white Christmas mantel above (photograph by Sussie Bell.)
A Sophisticated White Christmas Mantel
The look of snow's shine and shimmer is captured through the use of all white decorations, accessories and even furniture upholstery accented with lots of silver and mirrors. While your home may not include all white furniture and an antique fireplace screen you can certainly re-create this sophisticated look. Search for:
Arrange any or all of these ornaments in a fashion that best suits your décor. For example, if you prefer a formal setting similar to the one shown in the photo you might want to use a symmetrical arrangement on your mantel.
A Casual White Christmas Mantel
On the other hand, if you prefer a more casual feel but still like an all-white theme, try capturing the look and feel in the room below by Centsational Girl blog.
All white ornaments that include spray painted candle holders, ceramic holiday trees and deer statues and the occasional snowball or snowflake adorn the mantel that is topped with a mirror that sparkles like snow. Even the fireplace accessories receive a touch of white Christmas with casual knit stockings hung on the fireplace screen. A simple fallen tree branch receives a coating of snow and is adorned with little red cardinals to add just the right punch of color.
If you would like to capture the look of a snowfall on your own holiday White Christmas mantel, keep an eye out for:
Items such as candle holders, votive cups or simple ornaments that are mirrored or glittered to add the sparkle necessary for this look. Mercury glass works well.
Mirrors of any size and shape. If you happen to find a garland strung with tiny mirrors you have struck gold as this can be hung across the mantel and will reflect decorations, firelight and candles from across the room.
Holiday items with an all-white coating. However, it is easy to spray paint old candlesticks, ornaments, statuary and other pieces that contribute to your snow theme.
Fireplace accessories such as fireplace andirons, candelabras, and tool sets. These accessories are the "jewelry" for your fireplace and allow you to really dress it up for the holidays. Go ahead and spray paint them white if you want, so they look as though they have come in from the falling snow.
A snow themed holiday fireplace mantel is simple to accomplish and the best part; no need to bundle up to enjoy the magic of snow. No need even to wait for real snow to have a White Christmas mantel.
Ugly Christmas sweater party on your calendar? Or looking for a unique and fun way to celebrate the holidays? Maybe you enjoy keeping your friends and coworkers entertained. Fireplace sweaters let you take the hearth glow wherever you go. So light up that Ugly Christmas Sweater Party or a cozy night in with bright dancing […]