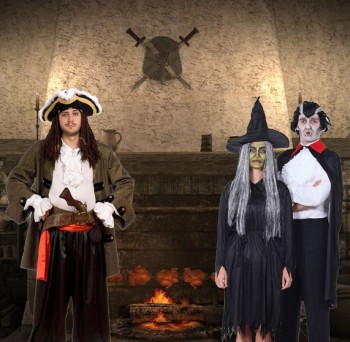 QUESTION:  According to the National Retail Federation, what was the most popular adult Halloween costume?
ANSWER: In 2012, the best-selling adult costumse at Halloween were Witch Costumes!
Americans spent an amazing $287,000,000,000 (that's billions!) on Halloween costumes last year.
QUESTION: How Can I Decorate the Fireplace for Halloween?
Adults, children, and even pets are not the only things getting "dressed up" for Halloween. When decorating for October 31st, don't forget the fireplace.
ANSWER:  Here are 3 ways to dress up your fireplace for Halloween:
The fireplace is the place in your home that was created to hold fire, so it is a safe place to set your jack o'lantern if you are using lit candles.
Decorate the fireplace mantel for Halloween or, for an unused fireplace, add the spooky decorations into the firebox.
 QUESTION: How can I share photos of
my costumed Halloweeners posed in front of a fireplace, or
my fireplace decorated for Halloween?
ANSWER: We'd love to share your photos of this fireplace-weather holiday! Just leave the URL of your photo in the Comments below.
Ugly Christmas sweater party on your calendar? Or looking for a unique and fun way to celebrate the holidays? Maybe you enjoy keeping your friends and coworkers entertained. Fireplace sweaters let you take the hearth glow wherever you go. So light up that Ugly Christmas Sweater Party or a cozy night in with bright dancing […]