This free, downloadable window Fire Safety Pet Alert lets you tell firefighters to rescue your pet in the event of fire.  It increases you pet's chances of surviving a fire because it allows you to add both a photo of your pet and his name.
With a photo, firefighters know whether they are looking for a little black dachshund or a large, white German shepherd.
And by providing your pet's name, rescue personnel will be able to call your pet by name.
Download Window Pet Alert

When you download the window Fire Safety Pet Alert, you will be able to navigate to the photos on your computer, select one of your pet, and insert it onto the Pet Alert.  Then, just click in the text box to type in your pet's or pets' name(s).  Simply print the Pet Alert and affix it to an exterior window or door.
Share with your pet-owning friends on Twitter: tweet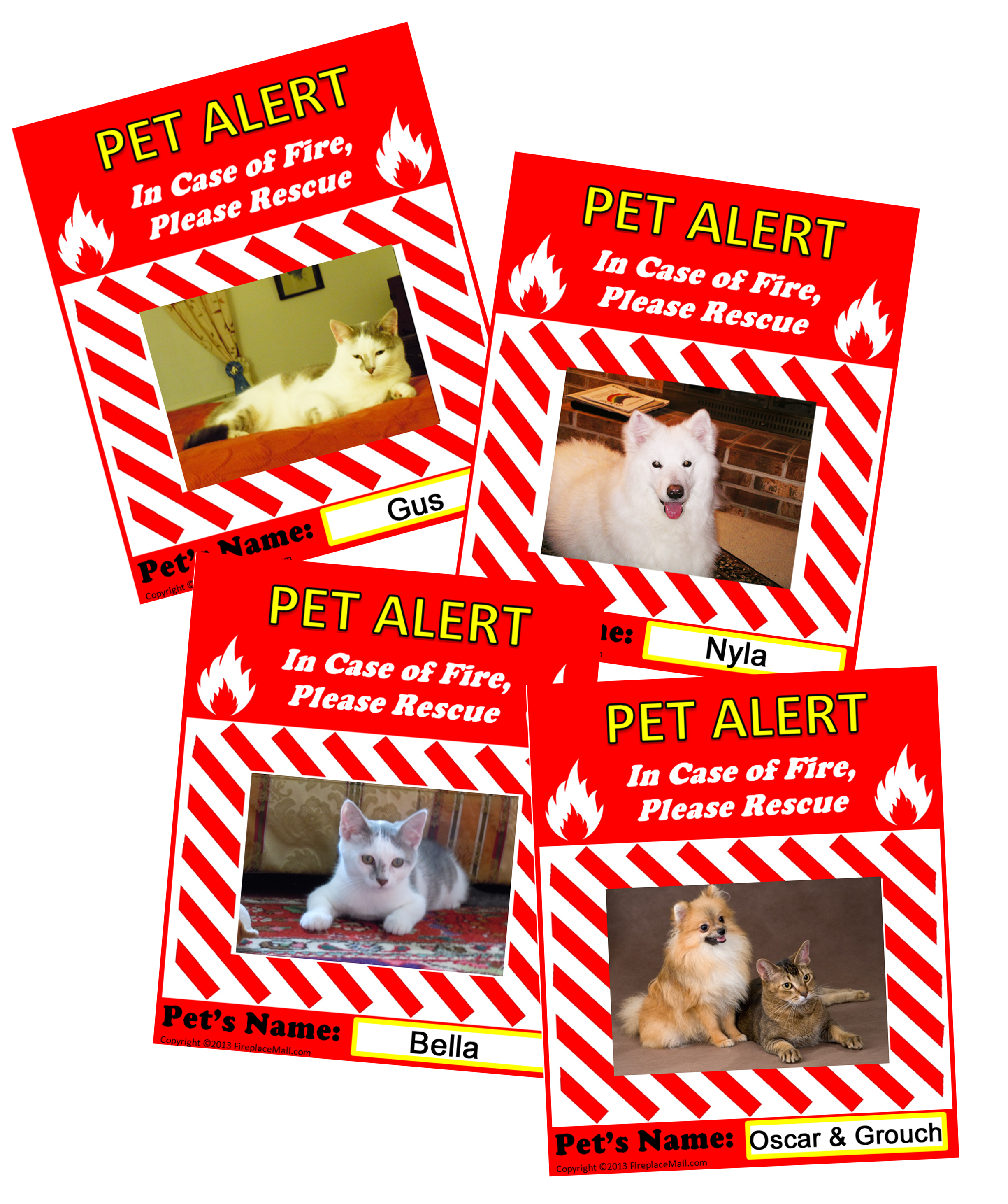 Nearly 50,000 pets die each year in fires in America, most often from smoke asphyxiation.  A visible Pet Alert sign allows the firefighting team to be an efficient pet rescue team.
Additional Tips for Increasing Your Pet's Survival in Case of Fire
If you leave your pet alone in the house, confine him to the ground level space with an exterior door.  This increases the chances that firefighters can find and rescue him.
Consider installing a pet door.
If you are often away from the home while your pet is at home, you may want to think about an alarm system that notifies emergency personnel if a fire is detected in the home.
Keep the pet's leash by the door.  Firefighters report that when they enter, animals often bolt outside into hazards such as arriving fire engines.
Give a spare house key to a trustworthy neighbor, preferably one that knows your pet and is familiar with where he likes to lounge, sleep, and hide when frightened.
Working smoke alarms are not only your but also your pet's best assurance for escaping a house fire.  Remember, you will need to change the batteries twice a year.
Create a family fire escape plan.  Include evacuating your pets when you practice the fire escape plan.  To help your pet associate the sound of a smoke alarm with exiting the house, push the test button on a smoke alarm each time your family practices the fire escape plan.
If you must evacuate the house without your companion animal in the event of fire, leave the door open through which you exited.  Call your pet from a safe distance.  If both people and pets are trapped inside a burning building, the pets will not be firefighters' first focus.  If all the people are safely out, your pet's rescue can become a priority.
And don't put off downloading the window Fire Safety Pet Alert notification.  Have friends and family with pets?  Share this free download with them on Facebook or twitter.

When is a headache, nausea, and fatigue not "just the flu" and, instead, carbon monoxide poisoning? And how can you prevent carbon monoxide poisoning in your home? Every year 20,000 Americans are treated in emergency rooms for carbon monoxide poisoning. But many of those at first thought they were dealing with a run-of-the-mill bug. Those […]