Will fireplace ashes melt ice or just improve traction on ice? Are there advantages or disadvantages to using ashes instead of rock salt or other chemicals on snow and ice? What are the pros and cons of other de-icers compared with using fireplace ashes on icy surfaces?
Will Fireplace Ashes Melt Ice and Snow?
Fireplace ashes primarily provide traction on icy and snowy surfaces. As a secondary function, fireplace ashes melt ice and snow by darkening the area. Dark areas absorb more of the sun's heat, thereby speeding up the melting process on sidewalks, driveways, streets and steps to which ashes have been applied.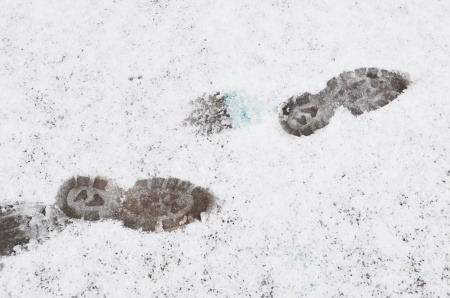 Advantages of Fireplace Ashes
Fireplace ashes are a natural abrasive, so they provide good traction in winter conditions.
They are free! Your fireplace produces them during the cold seasons when ice and snow are an issue.
Fireplace ashes do not cause damage to lawns, shrubs or trees.
The ashes are actually beneficial for plant growth as it contains 13 essential nutrients soil supplies for plant growth.
Conveniently, hardwoods, which are best for fireplace and woodstove burning, produce about three times as much ash and five times more soil nutrients than softwood.
Fireplace ashes will not corrode concrete or metals (as some de-icers will.)
The ashes from your fireplace will not injure the pet paws.
Disadvantages of Fireplace Ashes
While they are both free and won't damage plants, there are some disadvantages of using fireplace ashes on ice and snow.
Because fireplace ashes are alkaline, use the same caution with them as you would when handling other highly alkaline materials: Use gloves, eye protection and (if the ashes are very fine) a dust mask.
Ashes can get tracked into the house. They are, therefore, best used on driveways, roads and areas away from the house such as by barns and garden composts.
You don't want to use ashes from fire pits or grills if you use fire starting fluids with these fires. These added chemicals are not good for your lawn.
Fireplace ashes melt ice more slowly than chemical solutions. If you want to speed up the process, mix vegetation- and pet-safe ethylene glycol de-icers (like Safe Paw Ice Melter) or calcium magnesium acetate de-icers (like Snow Joe Melter) with the ashes. Mixed this way, fireplace ashes melt ice and snow more quickly and thoroughly. While these de-icers can be a bit pricey, by mixing them into your ash bucket with the ashes, you can stretch your dollar.
Pros and Cons of Other De-icers
While we think fireplace ashes melt ice and snow well enough and provide good walking and driving traction, they are not the only de-icers available.
De-Icing Heat Mats – For those who never want to deal with ice or snow on sidewalks or steps again, de-icing mats such as HeatTrak are the way to go! They are designed to stay outside all winter, and, when one or a series are turned on, they safely melt ice and snow. With a wireless control switch, you can even turn them on without going outside. These are a great gift for older relatives living in cold climates.
Note of Caution
"Fireplace ashes" means cold ashes. Don't be tempted to think warm embers and fireplace ashes melt ice and snow more effectively than cold ones. A stray hot ember is a good way to get to know your local firefighters way too well.
Also, store ashes in a metal ash bucket with a lid. A cardboard box will not cut it!
Reference: Oregon State Extension Service
The United States celebrates National Bioenergy Day each October. It recognizes and encourages the use of renewable and sustainable bioenergy sources. In 2021, National Bioenergy Day is October 20. When any organic material with few or no productive applications is used to generate energy, we call it "bioenergy." The biomass can be any organic low […]