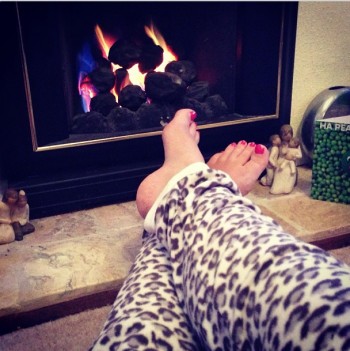 That first cool evening or chilly day is often celebrated with the first fire of the season.  The inaugural lighting of the fireplace, wood stove, or even wood-burning furnace is a definite marker of the seasonal change.
Tips for the Season's First Fire:
It is best to wait until there is at least a 20 degree difference in the indoor and outdoor temperatures before lighting a fireplace fire.  For example, if the interior temperature is 70 degrees, wait until is is 50 degrees or cooler outside before starting a wood-burning fire.
When there is less than a 20 degree difference, more creosote can build-up in your flue.
Also, a less than 20 degree temperature difference can cause some fireplaces not to draft as well as they should, so smoke gets into the room from the fireplace.
Have a certified chimney sweep inspect your chimney,  chimney cap, flue and firebox before using it for the first time each season.  If necessary, have it cleaned.
Use well-season hardwoods to prevent creosote build-up.
Some FireplaceMall.com friends have kindly shared their photos of their First Fires of the Season.  Whether you have already lit this season's first fire or are still contemplating it, enjoy the warm and cozy photos below.
First Fireplace Fires of the Season
 First Wood Stove Fires of the Season
 First Wood-Burning Furnace Fire of the Season
For some, autumn commences when football and hockey seasons start or when the World Series begins.  For others, autumn comes when leaves start to turn colors, pine cones fall,  cool weather vegetables such as pumpkins and squash mature, and mums bloom in the garden.  In households with children, Fall has officially dawned when sweaters replace swimsuits and yellow school buses start the days.  But for some of us, autumn doesn't truly kick off until the first fire of the season graces our fireplace or wood stove.
Traditionally, knowledge based on teachings and experiences about selecting and burning firewood was passed along verbally. Often such information was put into a rhyming format to make it easier to remember. Thus were born firewood poems and firewood songs to address the question, "Which Firewood Burns Best?" As with most things passed from generation to generation, […]