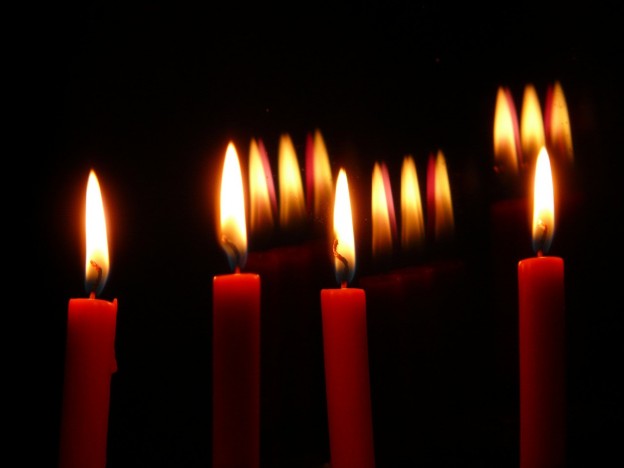 Have a patio, porch, or other outdoor living area? Using candles to light it at night can create a relaxing and romantic atmosphere. Given their size and sturdy construction, fireplace candelabra are the perfect source to consider for outdoor lighting.
With the fireplace candelabra there is no need for a plug or source of electricity to power the fixture, and it can be moved around to wherever you want that flickering glow of light.
Fireplace candelabra come in many different types of metals and finishes. In addition to the more common flat black finish, there are polished steel and other finishes as well that may be more appropriate and complementary to your outdoor decor. A bronze finish fireplace candelabra provides a nice contrast between the amber glowing flames of the candles and the bronze colored fixture.
The type and size of fireplace candelabra that you choose to display and provide light outdoors depends on the look you want to achieve and the type of furniture that you place it on. You can set a narrow candelabra on deck railings as they are designed for small fireplaces; larger areas like a picnic or dining table may be more deserving of a larger fireplace candelabra with many candles.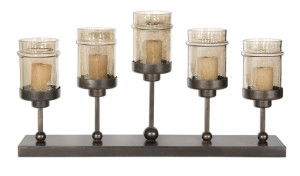 Candle choice can be as important as the candelabra. If your outdoor area is open to winds, choose candles with glass cups to keep the flame from blowing out. You'll need a candelabra without candle pins, of course. Some candelabra, like the Lamya Fireplace Candelabra, come with glass globes or cups.
Consider adding citronella candles to the candelabra to ward off mosquitoes and other flying bugs. They give the same light as other candles, but they do not attract unwanted flying, biting guests.
There are countless creative ways that you can use fireplace candelabra to brighten your outdoor experience. Click here to browse fireplace candelabra.
A Halloween fireplace mantel scarf is the fabric drape that covers the top of the mantel. It provides the foundation upon which a Halloween themed mantel is created. The mantel scarf is to a fireplace mantel like a tablecloth is to a dining table: It sets the color scheme and theme. You can find a […]