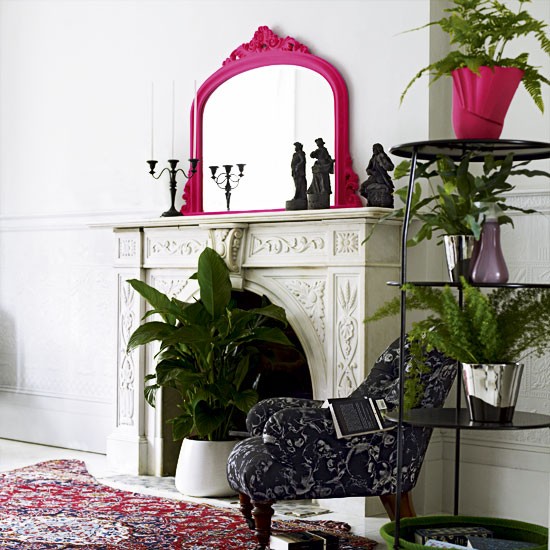 Your fireplace is a major component of your home design that can either become a pleasing focal point or cumbersome distraction (depending on how you choose to decorate it). While there are many different styles and techniques you can apply to your mantle, a simple, elegant choice is to use plants.
However, there are several considerations you have to account for before you can begin sprucing up that mantle.
For example, what kind of lighting is available near your fireplace? How big is your fireplace? What kind of style do you want? And finally, what types of plants will fit your needs?
If you do your homework, you can create an appealing aesthetic with fireplace plants all year round.
Lighting for Fireplace Plants
When dealing with plants, lighting is a major factor in the type of vegetation you can use.
Most fireplaces are situated away from windows and therefore may not receive much direct sunlight. If this is the case with your fireplace, you will have to consider what plants can thrive in low or indirect sunlight.
Another alternative to choosing only indoor plants that require minimal light is to use LED grow lights. Many gardeners employ these lights to enhance the growth of their plants and mimic natural sunlight.
Grow lights emit an electromagnetic spectrum necessary for photosynthesis.
The advantage of LED grow lights is that they are typically inexpensive, long-lasting, cooler, and consume less power. Their lower heat production allows them to be placed closer to the plants and reduces the time between watering.
A great way to incorporate them into your fireplace décor is to place them above plants directly inside the fireplace. This can serve to not only improve fireplace plant growth, but highlight the plants in the center of your fireplace.
Size of Fireplace Plants
In addition to lighting conditions, the actual size of your fireplace will determine how you can best decorate. For bigger mantles and fireplaces, you may consider adding one or two larger plants to fill the space, a number of smaller plants, or other features to balance the façade.
In most cases, you will include other items such as mirrors, vases, or pictures on or around the mantle for decoration.
The number and size of these objects will factor into the kinds of plants you will want to use to complement the ensemble.
For example, a large fireplace may benefit from taller potted plants like trees or bushes. A tree on either side of the fireplace can create an attractive and symmetric visual for your décor.
Add a large mirror in the center or some frames and vases to the mantle, and you will have a pleasant arrangement.
In contrast, a smaller fireplace will seem crowded and cluttered with too many bulky fireplace plants. Opting for smaller, daintier vegetation can add elegance and charm without overwhelming the eye. You may consider a small vine to hang over the mantle adjacent to a ceramic or frame.
Style of Fireplace Plants
Wrapped up in all of this is your style. Based on the available light, size of your space, and overall décor of the home or room, you should choose corresponding plants.
For example, if your home is in a hot or desert climate, picking cacti varieties is a reasonable option. This will work especially well if your home has a western design.
Additionally, for more traditional homes, you may prefer regal trees or sophisticated ferns. For a lighter, more delicate arrangement, small, flowering plants will do the trick.
Pay attention to the style of your home and the kind of décor you want to follow. This will help you determine the best plants for the job.
Recommended Fireplace Plants
As we have indicated, the types of plants you use will be largely based on the amount of lighting and space, and the specific style you prefer for your fireplace.
Because most fireplaces receive indirect sunlight, we will discuss several varieties of plant options that will last year round.
The muehlenbeckia is a fanciful looking topiary that is a great addition to a fireplace.
Their lollipop shape provides a simple geometric to complement your décor, while the flyaway stems offer whimsy and a more a relaxed vibe than a traditional, sharply trimmed topiary.
Place three to five in a row at the base of your fireplace for an interesting arrangement, or add one or two on your mantle to bring the façade together.
Because they like indirect light, they will thrive by the fireplace.
Ferns are a great plant for a minimalist approach. Their simple, lush green vegetation adds classic elegance to any décor. They need only indirect light and should be watered whenever the soil is dry to the touch. Place them on the mantle or in the fireplace to spruce up your space.
For a more tropical paradise style, an areca palm is an excellent choice. This tree can grow up to seven feet tall, though it will stop if you keep it in a smaller pot. It adds a nice softening effect to a room, which is especially appealing for decors with hard lined furnishings. It thrives in indirect sunlight.
These two vine plants are great additions to a fireplace mantle. Both vines can be tailored to trail along a mantle or down the side of your fireplace. Simply trim any vines that get too long. This provides a nice border and a simple, uncluttered look.
The Christmas cactus is a lovely plant that blooms in winter. The bright, vibrant colors add spice and life to your room, particularly in a season that usually lacks such rich foliage. These are ideal for a pop of color to your fireplace and require minimal maintenance.
There are certainly many more options for indoor plants that will dress up your fireplace. However, this list should give you an idea of the variety of choices and styles available.
When you go to decorate your mantle, remember to keep these factors in mind, and stay true to your own personal style. You're choosing year-round plants after all—you'd better like what you pick!
Nina Hiatt researches and writes articles to help people find balance and beauty in their personal space through landscape and interior design. In her free time, Nina blogs about many of her interests, which include gardening, technology news, and baking.
photo via housetohome
A Halloween fireplace mantel scarf is the fabric drape that covers the top of the mantel. It provides the foundation upon which a Halloween themed mantel is created. The mantel scarf is to a fireplace mantel like a tablecloth is to a dining table: It sets the color scheme and theme. You can find a […]