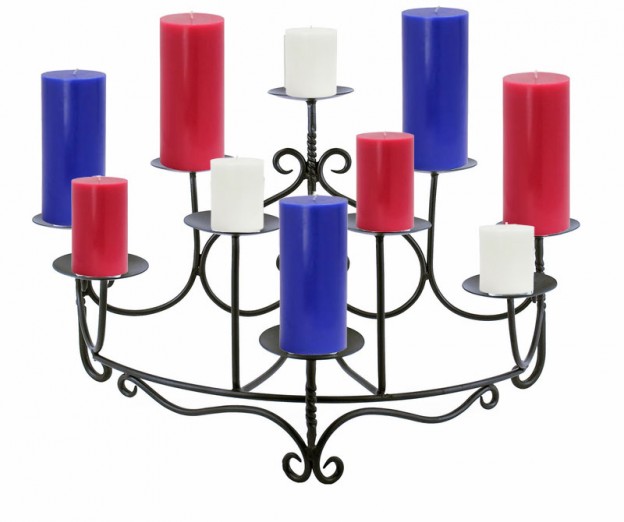 At first thought, it might not seem like you can do much with a fireplace candelabra. Fill it up with uniform candles and light them, right? Don't stop there! Many people get into a rut of using the same candle on every platform every time, not realizing the interest imbued by changing it up when it comes to candle sizes, styles and even colors.
Mix Candle Colors
You can employ color themes to set up your candelabra. Consider the occasion or the season. A mix of red, white and blue candles is festive and appropriate for a holiday like Independence Day. Try a red, white and green combination for the winter holiday season, or natural colors for the fall, like brown, earth-tone orange and yellow.
Consider the colors in the room with the fireplace. What is the predominant color? What are the accent colors? Incorporating those accent colors in candles of the fireplace candelabra makes those colors pop and makes the room cohesive. Use any interesting combination of colors that you can devise!
Mix Candle Shapes & Sizes
Stocking your fireplace candelabra with candles the same shape and size can often make it appear too rigid. It is OK to use candles of varying height to add that sense of planned randomness that professional decorators often use. Try using spherical candles, and if the fireplace candelabra does not have candle pins, you can even use votive candles—colored or clear—tealights and other candle containers.
Do it for You
We all realize the impact on ambiance that properly set candles can have. We tend to reserve the luxury of it for our guests alone. But you should also allow yourself the pleasure of basking in the enchanting glow of candles in your fireplace candelabra.
Ugly Christmas sweater party on your calendar? Or looking for a unique and fun way to celebrate the holidays? Maybe you enjoy keeping your friends and coworkers entertained. Fireplace sweaters let you take the hearth glow wherever you go. So light up that Ugly Christmas Sweater Party or a cozy night in with bright dancing […]