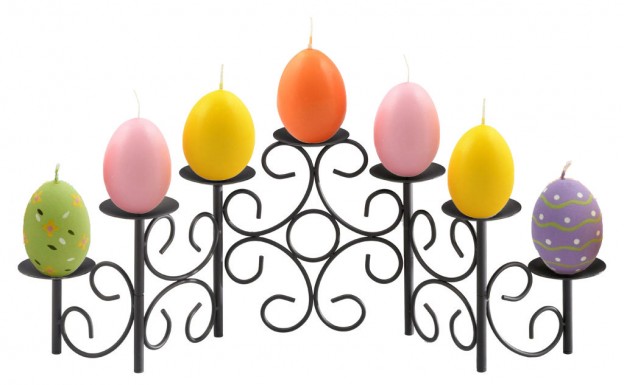 Many a family has decorated their fireplace for Easter by replacing the regular candles in their fireplace candelabra with Easter egg shaped candles.  It's a quick, easy, and delightful way to give a springtime pop to a fireplace, the focal and gathering point of a home.
However, serious Fireplace Easter Bunny Myths have evolved from this practice!
It is believed by many that the Easter Bunny, seeing the Easter egg candles perched on the fireplace candelabra, will hop into the fireplace and replace one or more of those candles with chocolate eggs.
While it is true that the Easter Bunny has been known to exchange Easter egg shaped candles with chocolate eggs, he only does so when he can reach those candles without entering the fireplace.
Unbeknownst to most fans of the Easter Bunny, for health, personal, and even legal reasons, he never, never sets even one white furry paw into a fireplace!
A long-standing legal arrangement between the Easter Bunny and Santa Claus gives the jolly ol' elf the exclusive rights to the chimney and fireplace.  The Easter Bunny is officially prohibited from entering or using as a thoroughfare either the chimney or the fireplace area.  This pact works for the Easter Bunny because, unlike Santa, the Easter Bunny suffers from Santaclaustrophobia, the fear of getting stuck in a chimney.
A related Easter Bunny myth is that he sometimes hides Easter eggs in a fireplace.  This myth came about because, indeed, from time to time an Easter egg has been found on Easter morning in a fireplace.  Yet those eggs were not hidden there by the Easter Bunny.  In truth, those were what the Easter Bunny terms "Rollers."  Rollers, as the name implies, are Easter eggs that roll to a different location after the Easter Bunny hides them.
So, feel free to use Easter egg shaped candles in your fireplace candelabra.  After all, since Easter egg candles are available in such an array of colors and designs—everything from brown, chicken egg looking candles to traditional pastels to highly elaborate candles resembling Ukrainian folk art eggs— there are options for all decorating styles and color schemes.
We just encourage you to manage children's expectations about chocolate or real Easter eggs being found in the fireplace and to prevent the spread of these two Easter Bunny Myths .
Ugly Christmas sweater party on your calendar? Or looking for a unique and fun way to celebrate the holidays? Maybe you enjoy keeping your friends and coworkers entertained. Fireplace sweaters let you take the hearth glow wherever you go. So light up that Ugly Christmas Sweater Party or a cozy night in with bright dancing […]