Is your chimney cap in tip-top shape?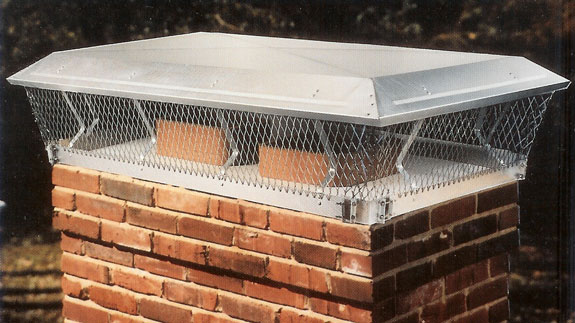 With warmer weather around the corner and a season of fires wrapping up, now is a great time to check that your chimney cap is still is good shape. Chimney caps prevent water, snow, animals, bird droppings, and leaves from entering your home. A damaged (or missing) chimney cap may no longer be protecting your chimney and home. A once-a-year check on your chimney cap can be well worth your time for protecting your house. Here are four things to check on your chimney cap:
1. Check on Your Chimney Cap: Is it there?
Powerful winds during fall and winter storms can tear off a chimney cap. A properly secured chimney cap can withstand most high winds, but exceptional winds can do damage, including blowing the chimney cap off. Also, most homes built before the 1980′s simply never had chimney caps to begin with.
2. Check on Your Chimney Cap: Is it securely attached?
Time, wild animals, or high winds can loosen your chimney cap's attachment to your flue or chimney. You can re-tighten screws or reapply a chimney cap sealant if your cap has become loose over the past year.
3. Check on Your Chimney Cap: Is it rusting?
Galvanized steel chimney caps generally last about three to five years before they become too rusted to offer protection. Along the coast, galvanized chimney caps corrode even more quickly.  Stainless steel chimney caps and copper chimney caps usually have lifetime warranties, so they are good replacement choices for folks who don't want to be replacing their chimney cap every few years.
4. Check on Your Chimney Cap: Are its sides clogged?
The mesh in chimney caps can get clogged with leaves, as well as soot and creosote, especially if you are using unseasoned firewood. This clogging is most common in chimney caps designed with smaller mesh holes for use in wildfire prone areas. If the mesh sides of your chimney caps are clogged, your fireplace or woodstove's draft will be reduced, leading to poor performance or even a chimney fire.
When heading up to the roof to check on your chimney cap, take along a tape measure, paper, pencil and the FireplaceMall Chimney Cap Easy Measure Guide. In case you need a replacement chimney cap, you will have the tools and information at hand to measure your flues or chimney crown for a replacement chimney cap.
Replacement chimney caps are available in a variety of styles and finishes. Different types of round flues must have different styles of chimney caps, so see this guide for which style of round replacement chimney cap you need. Replacement chimney caps are also available
5 Ways to Prevent Chimney Leaks A leaking pipe, a leaking roof, a leaking window, a leaking chimney – none of them is good. Here are 5 ways make your chimney leak-proof and prevent chimney leaks. See  how to fix chimney leaks and prevent them  in, through and around your chimney. #1 Way to Prevent Chimney Leaks: Install a […]