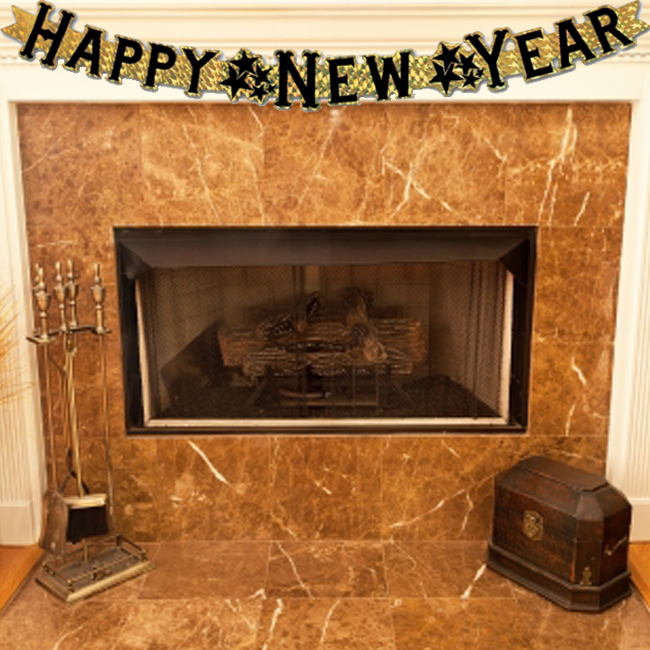 Proclaim "Happy New Year" with banners or garlands or pennants hung from your fireplace mantel. Your options for messages on New Year fireplace banners range from the new year's numerals to "Happy New Year" and more novel expressions such as "Cheers!"
New Year Fireplace Banners with Year's Numerals
The classic way to decorate your fireplace mantel for the New Year is to display the numerals of the new year. Depending on  your point of view, that means each year you "have to" or you "get to" buy a new banner.
The following two New Year Fireplace Banners have big (15 inch tall) numbers and come on a six foot line, long enough for even large fireplace. Each jazzes up the number with stars and glittery colors. Choose from classic Silver and Black Sparkle Year Streamer or the more vibrant Multi-Color Sparkle Year Streamer.
For a smaller fireplace, these strung Gold 8 Inch Tall Year Numbers with printed-on glitter work well. Use it alone, or get three of them: One to hang toward the left of the fireplace, one to hang in the middle, and the third to hang toward the right of the fireplace.
Want a short-cut way to make your own New Year Fireplace Banner with the year? These twenty sturdy cut-outs , below, of the year's number each measure 7 inches wide and 5 inches tall. The glitter looks like sparkly glitter, but is actually printed on the cards, so it won't flake off onto your hearth or rug. Simply hang or string these on a ribbon of your choice, and you have a great fireplace banner to welcome the new year.
New Year Fireplace Banners That Say "Happy New Year"
Go straight to the message with a fireplace mantel banner or garland with those three magic words for January 1st: Happy New Year!
With large, 8 1/2 inch by 8 1/2 inch letters, the Beistle Happy New Year Streamers are a great size. The letters can be spread out more if you are using them with especially large fireplaces.  The Beistle Streamers come in sparkly Gold and Black, Silver and Black, and Multi-Color.
Prismatic New Years fireplace banners give the illusion of 3-D prisms and are designed to reflect light from the fireplace and the room. They come in Silver and Black or Gold and Black Banners as well as a New Year Individual Letters Streamer with Prismatic Dots.
These New Year fireplace banners below have one letter on each pennant – whether the pennant is a triangle, square or circle.
Jointed or hinged Happy New Year fireplace banners are another option.
Foil fringe New Year banners work well over a lit fireplace because the waves of rising heat will gently flutter the fringe!
If you want the best of both worlds for you fireplace mantel – the New Year's numerals and the words "Happy New Year," you are in luck with these Bunting Banners:
Reuse them next year by just taking off the pennants with the year.
New Year Fireplace Banners That Say "Cheers"
Banners that say "Cheers" are versatile. They can be used for New Year's and encourage a toast. They can also be displayed for weddings, anniversaries, graduations, and promotion parties.
No matter which option you select to welcome the New Year, whether banners or pennants on the fireplace mantel with the new year's numerals, the words Happy New Year, or the single word Cheers, have a happy and safe New Year's Eve.
Also, see more ideas for New Year's Mantel Decorations.