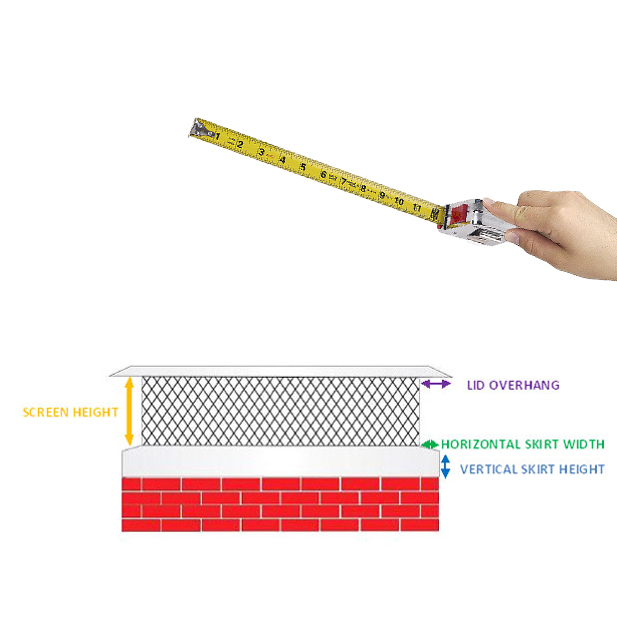 Outside Mount or Outside Chimney Cap Measure Guide:
What to Measure to Get the Right Fit –

Outside mount chimney caps fit over the entire chimney, like the lid on a shoe box. The Vertical Skirt on Outside Mount chimney caps attach to the sides of the chimney with screws or chimney cap adhesive. Many people prefer the nicely finished look these chimney caps provide.
Because chimneys are hand made, their dimensions often vary a bit. Most outside mount chimney caps are custom made because of variations in chimney dimensions. Such custom made chimney caps can be constructed of stainless steel or copper with the design features you want, such as a hip and ridge top and a vertical skirt of the height you specify. The stainless steel can be powdercoat finished with an exterior grade paint in your choice of color.

Only Band-Around Chimney Caps are available in stock sizes as well as custom sizes. These Band-Around Chimney Caps tighten at each corner of the chimney for a secure fit. The stock sizes of the Band-Around Chimney Caps are made of aluminum. Custom Band-Around Chimney Caps can be constructed with aluminum or stainless steel.
Use the outside mount or outside chimney cap measure guide below to get all the right measurement you need for a chimney cap that covers a chimney like a shoe box lid and attaches to the vertical sides:
What to Measure:


For a Stock or Custom Band-Around Chimney Cap, you will need these measurement:

•     Start with the longest side of your chimney. Measure it using a metal measure. Then, going in a clockwise direction, measure each of the other sides.
•     Measure the height of your tallest flue. To assure good drafting of your fireplace, select a Screen Height (see yellow arrow on diagram below) at least 5 inches taller than your tallest flue.

For a Custom Outside Mount Chimney Cap you will ALSO need these measurements:
•     Measure how far down the side of the chimney you want the chimney cap to cover. This is referred to as the Vertical Skirt Height (see blue arrow on diagram above) and a 3 inch vertical skirt height is standard.
•     Measure for your chimney cap's Horizontal Skirt Width (see green arrow on diagram above.) The standard for horizontal skirt width is two inches and will work fine as long as none of your flues is within two inches of the edge of the chimney.
•     Measure for your chimney cap's Lid Overhang (see purple arrow on diagram above.) The lid overhang serves like the eaves on a house. The standard overhang is 3 inches, but you may wish to make it larger (up to 7 inches) to give your chimney cap better visual proportions if you have a wide horizontal skirt width and a screen height taller than 12 inches.
•     Select a standard, flat lid (such as the one on the diagram above) or a lid with a pitch. See Lid Styles A through J below. The first number above each diagram, such as 3/12, is the roof pitch and the second number, such as 14o, is the degree of the roof's angle.
•     Select stainless steel or copper for your chimney cap's material. Stainless steel can be powdercoat painted with a color of your choice.
•     Select standard 3/4″ mesh screening or a tighter, 5/8″ mesh screening if you live in California or in an area at risk for wildfires.
5 Ways to Prevent Chimney Leaks A leaking pipe, a leaking roof, a leaking window, a leaking chimney – none of them is good. Here are 5 ways make your chimney leak-proof and prevent chimney leaks. See  how to fix chimney leaks and prevent them  in, through and around your chimney. #1 Way to Prevent Chimney Leaks: Install a […]