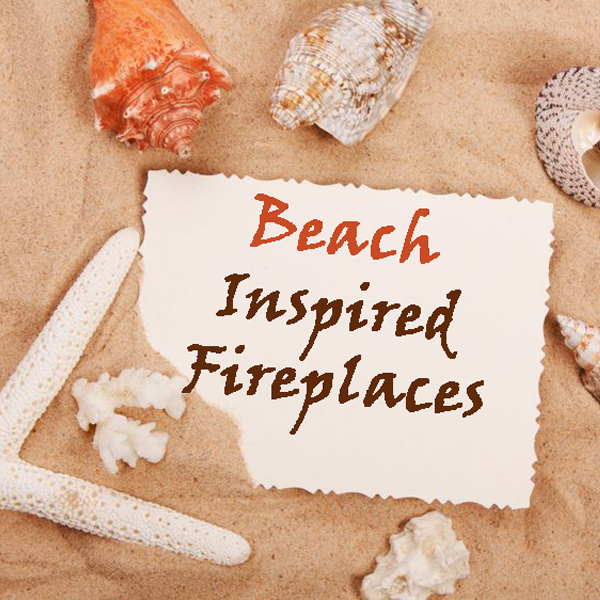 How to Bring the Seashore to Your Fireplace Mantel to Create a Beach Inspired Fireplace
Are you lucky enough to have a beach house with a fireplace? Or do you wish to bring mementos of your coastal holiday to your fireplace and hearth to extend the enjoyment of your lakeside or seaside vacation? Either way, creating a beach inspired fireplace is the solution.
Using Sand for a Beach Inspired Fireplace:
Sand is in abundant supply just outside your beach house door. Or did you bring home some sand from your beach getaway? In Mason jars, brandy snifters, at the base of hurricane globes, or in other attractive glassware, pour sand in around the base of a pillar candle. To continue the seaside theme, add small seashells in the sand. You can place the shells either on top of the sand or place them against the inside wall of the glassware before you pour in the sand.
Incorporating Coral and Shells for a Beach Inspired Fireplace:
These beauties of the seas are delightful decorative accessories for your mantel. Try lining up five or seven similar shells or coral pieces across your fireplace mantel; it is simple but dramatic. Another way to display them is to gather them in glass canisters, vases, or stemware, and cluster these containers on the fireplace mantel. Alternatively, treat your best seashells or pieces of coral as candles by placing them atop candlesticks. They can also be displaced on upturned vases, wooden cubes, or even a stemmed cake plate.
If you already have a plant or flower arrangement on your fireplace mantel, consider giving it a seaside flare by adding shells. Glue gun the shells onto one end of skewers, and stick the other end into your planter or vase. Delicate seahorses are among the shells that look great displayed this way.
Or decorate your fireplace mantel with a seashell garland. Click here for directions for making your own garland of shells.
Making a Beach Inspired Fireplace with Driftwood:
Creating a fireplace mantel from a piece of driftwood is a classic way to cap a fireplace in a coastal home.
If you brought home pieces of driftwood, your mantel or hearth may be the perfect place to display them. On your fireplace mantel, nestle shells, coral, framed vacation photos, or other summer vacation mementos around and atop the driftwood. In an unused fireplace, large pieces of driftwood are a dramatic way to fill the empty, black hole.
Using Vintage Sand Buckets:
A toy sand bucket can add a simple charm to your fireplace mantel or hearthside. Fill it with summer's sea shells, prop the sand shovel by it, surround it with framed photos of the kids on vacation, and you have created a simple yet delightful display to remind everyone of the fun of summer.
Utilizing Mariners' Tools on the Fireplace:
Did you find fishing nets, ropes from ships, or buoys washed onto the shore during your vacation? Do you collect seaworthy equipment such as sextants or compasses? In an informal room, you can create a striking fireplace mantel display by turning fishing nets or ropes into a mantel garland. At the corners, attach buoys, seashells, or even summer swim toys such as goggles and swim fins. Add summer photos in driftwood frames to the mantel, and you have not only an eye-catching fireplace display but also a terrific reminder of your summer adventures.
Including Beach Inspired Candles on the Mantel or In the Fireplace:
Many summer tourists bring home from their travels coastal-themed candles such as candles with shells. Also popular are tea light holders in the shape of seashells such as sea urchins. Such candles are a lovely addition to a fireplace mantel decorated with a coastal theme.
Another way to display such candles from your vacation (or candles in the seaside hues of sand, water, and sky) is with fireplace candelabra. Fireplace candelabra are designed to hold an array of candles in your fireplace, taking the place of either gas or wood logs. They are especially popular during warm weather as fireplace candelabra provide the flickering flames of a fire without the heat of burning logs.
A Word of Caution:
A beach themed fireplace mantel can run the risk of being too much, too busy, too crowded. After you decorate your beach inspired fireplace, step back and take a look. If your eye does not know where to land, consider subtracting some of the elements.
Adding the keepsakes of summer to your fireplace mantel or hearth extends your enjoyment of your vacation, creates a beach inspired decor, and provides your home with a unique decorative display.
A Halloween fireplace mantel scarf is the fabric drape that covers the top of the mantel. It provides the foundation upon which a Halloween themed mantel is created. The mantel scarf is to a fireplace mantel like a tablecloth is to a dining table: It sets the color scheme and theme. You can find a […]