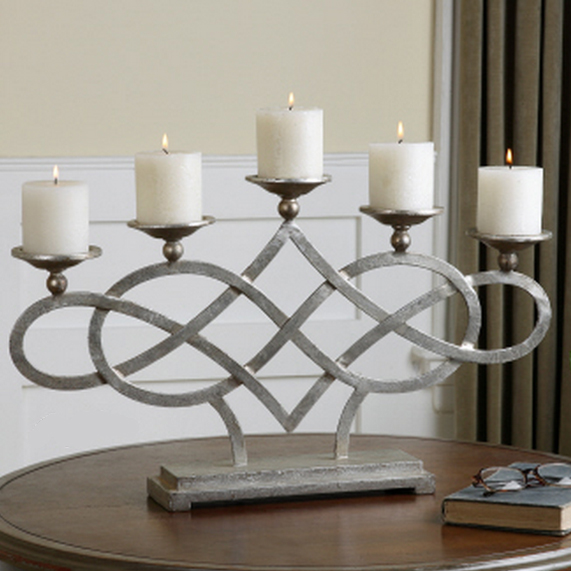 Fireplace candelabra are known for their versatility. They can be used inside the firebox in lieu of a wood or gas fire, on the fireplace mantel, or on the hearth. They can be used outdoors. But they can also be used as table candelabra on dining tables, buffets, library tables and side tables.
When cold weather arrives and you decide to light the first fire of the season, transition your fireplace candelabra to a table candelabra.  Or select a fireplace candelabra for year round use on a table.
From classic black to bronzes, silver tones, and gold, fireplace candelabra come in metal finishes to complement any decor. Their styles range from modern sleek lines to rustic wooden varieties.
As Table Candelabra for Narrow Tables
A fireplace candelabra narrow enough for the fireplace mantel is also ideally proportioned for narrow surfaces such as a buffet, bookcase or a behind-the-sofa table. The Adala Candelabra, seen above, the the Kra Candelabra, below, both work well as table candelabra on narrow tables.
As Centerpieces
The striking qualities of design that make a fireplace candelabra such a focal point of a fireplace serve them well when they are used as table candelabra: They provide the drama one needs for a table centerpiece. The Sammy Candelabra, for example, is a real statement piece.
As Dining Table Candelabra
For dining tables, use fireplace candelabra people can see over or through when seated, so your guests can easily converse with diners on the other side of the table.  The Arboretum candelabra is an example of one diners can see through.
The Ribbon Candelabra and Lamya Candelabra are examples of low profile fireplace candelabra that work well as a dining table candelabra:
Even without their candles lit, these candelabra are beautiful decorative art pieces. But to bring them to their full glory, light the candles!
A Halloween fireplace mantel scarf is the fabric drape that covers the top of the mantel. It provides the foundation upon which a Halloween themed mantel is created. The mantel scarf is to a fireplace mantel like a tablecloth is to a dining table: It sets the color scheme and theme. You can find a […]