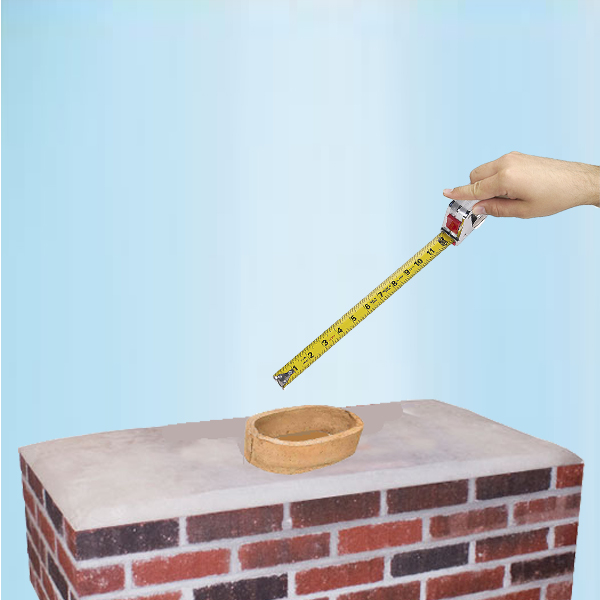 How to Measure for an Oval Flue Chimney Cap:
Oval Flue Chimney Cap Measure Guide
Virtually all oval flues are on buildings and outdoor fireplaces in California, Oregon and other Western, wild-fire prone areas. Thus, chimney caps for oval flues always come with smaller than customary spaces between the screen mesh wires. These smaller mesh, California spark arrestor style chimney caps are required to have screen openings no larger than 5/8 of an inch on each side. By contrast, most chimney caps have 3/4 inch screen screen openings.
Unless they are custom made from a template of a specific oval flue, oval flue chimney caps' exteriors are rectangular in shape, as they are also made to fit rectangular flues with rounded corners. When you look inside these chimney caps, however, you will see the corner-tabs or interior ledges that accommodate oval flues. See the photo below.
Stainless steel chimney caps all carry a Lifetime Warranty, so they are a good choice. If your chimney cap is for an oval flue in a saltwater environment, we strongly recommend a stainless steel chimney cap instead of a galvanized steel one.
What to Measure for an Oval Flue Chimney Cap
If you have an oval flue, measure the outside length and width of your flue.
Select an oval flue chimney cap like any of the ones above. Within the screened area, they all have corner tabs or interior edges. Those interior modifications make it possible for them to sit on an oval-shaped flue.
5 Ways to Prevent Chimney Leaks A leaking pipe, a leaking roof, a leaking window, a leaking chimney – none of them is good. Here are 5 ways make your chimney leak-proof and prevent chimney leaks. See  how to fix chimney leaks and prevent them  in, through and around your chimney. #1 Way to Prevent Chimney Leaks: Install a […]