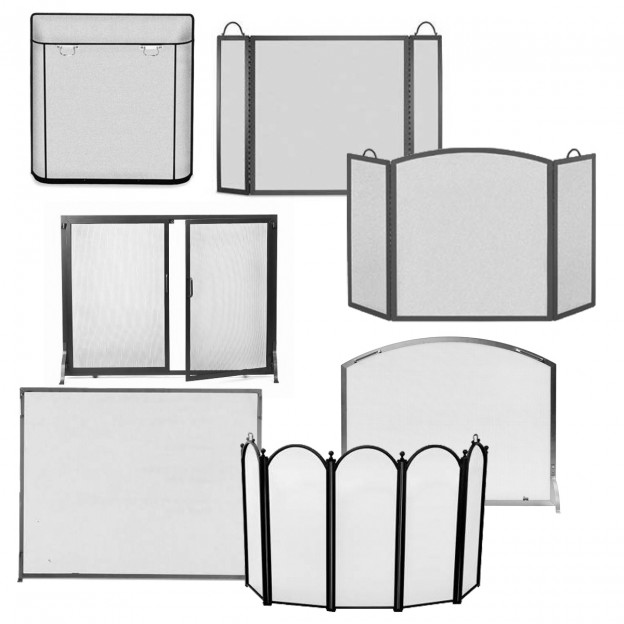 A Quick Guide to New and Traditional Fireplace Screen Shapes →

Thinking about a new fireplace screen for your hearth? There are more options available now, including in fireplace screen shapes, than just a few years ago. Don't be overwhelmed by the possibilities, though. Here's a quick guide to fireplace screen shapes.
Fireplace screens vary
by the number of panels they have,
by whether the panels are straight or bowed,
by the shape of the top of the screen, and
by whether they have access doors.
There is also a distinction between fireplace screens and fireplace spark guards.
One panel screens are very popular now. Flat one panel screens fit up flat against your fireplace and are visually integral to the fireplace opening. They usually sit on adjustable "feet."

Curved single panel fireplace screens have a gentle bow in them that allows them to stand without feet. Placed in front of the fireplace, each side edge of a bowed screen is against your fireplace wall, but the middle of the screen bows out a bit from the fireplace opening.
Three-panel, four-panel, and five-panel fireplace screens are piano hinged between each panel. This allows you to position the side panels to fit the width of your fireplace.

Three panel fireplace screens are probably the most familiar style. The middle panel is typically about twice as wide as each of the side panels. Three-panel screens are often favored for traditional settings.
Some have bowed panels; each panel is gently bowed so the entire screen forms one, continuous bow when placed on your hearth.

Four panel fireplace screens, although one of the less common fireplace screen shapes, have a unique appeal. They stand easily and can be adjusted to fireplaces of different widths. In addition, it is easy to fold just two of the panels to tend your fire. A five-panel fireplace screen is a rarity but these fireplace screens do bring a distinctly graceful visual balance to any hearth.

Single panel, three-panel, four-panel, and five-panel fireplace screens all can be had with arched tops or flat tops. Arched fireplace screens are popular not only with homeowners with arched fireplaces, but also with those who want a break from all the horizontal lines of most fireplace setting.
The arched screens—whether each panel is individually arched or the screen as a whole has a single arch—can add visual interest and drama to your hearth.

Access doors are a relatively new feature on fireplace screens. Most screens must be moved to tend a fire or add logs. Not so with fireplace screens with doors built into them. Access doors are most common on single panel screens and on the center panel of three-panel screens.

A separate category of screen is the "spark guard." Spark guards are screens that not only protect sparks from coming straight out from your fire into your room but also protect you from sparks that might shoot up-and-out into your room. Typically, they look much like a three-panel screen with two important differences: First, an additional top section of screening goes from the top of the three panels up to the fireplace wall. Often this top section of screening is shaped like the curved section of an old fashioned roll-front desk. Second, none of the panels is hinged. The entire spark guard is rigid. To tend a fire, handles on the spark guard allow the rigid unit to be picked up and moved away from the fire.
Your new fireplace screen can look just like the fireplace screen grandma used to have. But it doesn't have to! Fireplace screen shapes include both newer ones and classical shapes updated. Consider all fireplace screen shapes to determine which one will best serve your decorating and functional needs.
A Halloween fireplace mantel scarf is the fabric drape that covers the top of the mantel. It provides the foundation upon which a Halloween themed mantel is created. The mantel scarf is to a fireplace mantel like a tablecloth is to a dining table: It sets the color scheme and theme. You can find a […]