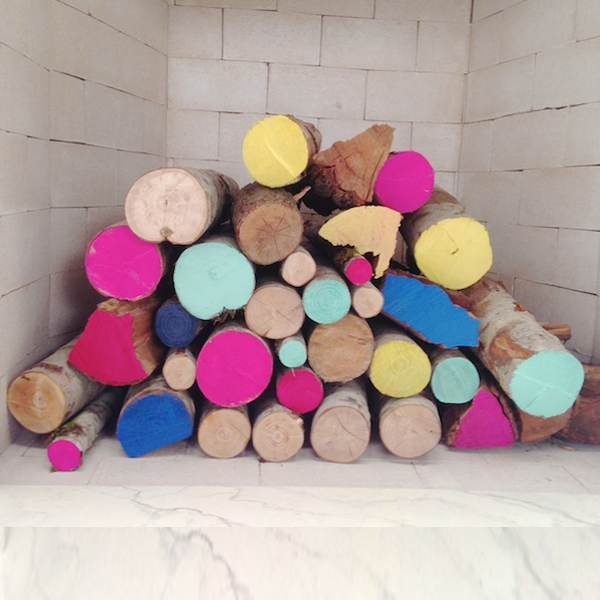 Log On to Your Fireplace:
When Your Fireplace Logs Are Purely Decorative →
Particularly in warm weather, sometimes decorators and home owners prefer to place firewood logs in a fireplace purely as a just-for-looks decorative arrangement. Here are some simple decorating tricks that answer "how to decorate fireplace with logs":
•     Use birch logs: No other tree has such distinctive bark. The uniquely textured surface and the handsome white and gray tones of birch bark have long been favorites for just-for-looks fireplaces. Set the birch firewood in a fireplace grate or on the shanks of andirons. Arrange them as though you were going to light a fire. Only you will know they are there just as fireplace decorating accessories.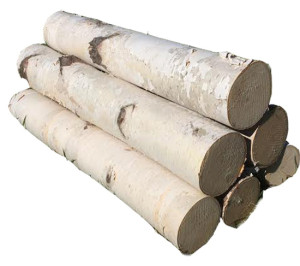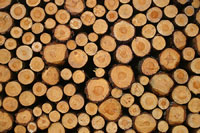 •     End of Logs Display: Select pieces of firewood that have been cleanly cut at 90 degree angles. Then fill the fireplace with logs so only the round ends of the logs face out into the room. Carefully align them so the ends all come out to the same place, so the ends create a solid plane. You can select logs all of the same diameter for a very structured appearance or logs of different diameters, as shown here, for a more casual look. Fill the fireplace at least two-thirds full, but many like it completely full. Experiment to see which log arrangement you like it best.
•    Split Wood Pyramid: A variation of the display technique described above is to use split firewood and arrange it in a a pyramidal pile with the ends of the split logs facing into the room. This creates a focal point that is both tidy and dramatic!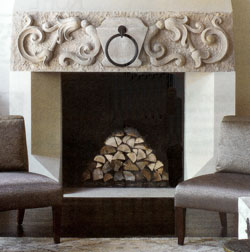 Or amp it up with color! Use the colors you want to pop in the room.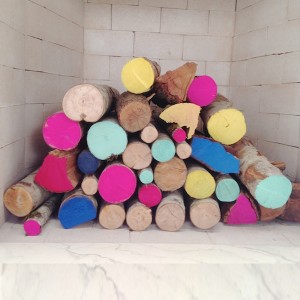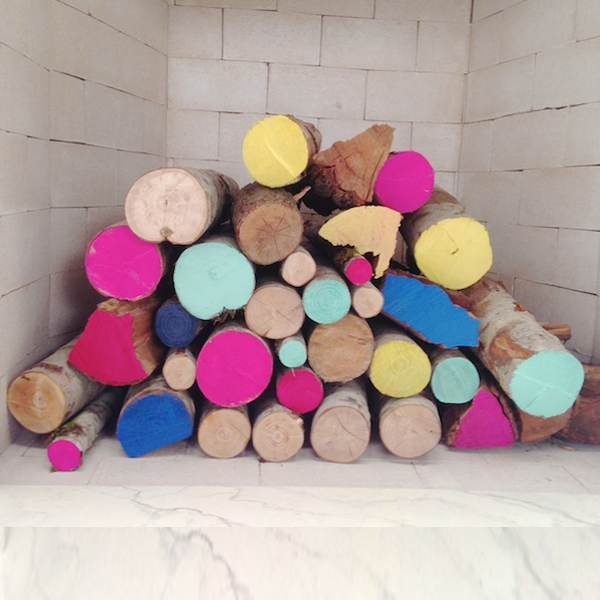 •     Crystal Logs: Selenite, a natural crystal that looks much like glass, comes in log-shaped pieces that add incredible drama to an unused fireplace. These replacements for real logs are sure to be comment-worthy from your guests. Folklore says these crystals clear negative energy from the room. See other alternatives for the selenite, crystal logs.
If you really want to splurge, go with Jeff Benroth's real glass logs.
Large Log Container: Large, attractive baskets or bins, tubs or other generously sized container sthat will work well with the room's style and colors. Fill it with firewood and tuck the firewood-filled container inside the fireplace. Classic copper tubs, buckets, and cauldrons in beautifully hand hammered copper of various sizes and shapes are stunning when used this way.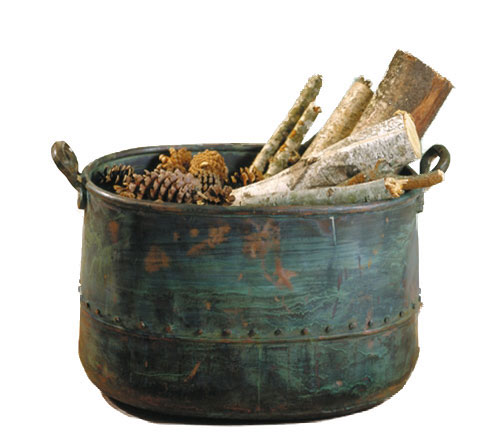 If none of these ways to decorate fireplace with logs works for your fire-less fireplace, you might want to consider a fireplace candelabra. Available in many different finishes and sizes, fireplace candelabra not only fill that black hole of an empty fireplace, but they also put a bit of fire back into the fireplace each time the candles are lit.
A Halloween fireplace mantel scarf is the fabric drape that covers the top of the mantel. It provides the foundation upon which a Halloween themed mantel is created. The mantel scarf is to a fireplace mantel like a tablecloth is to a dining table: It sets the color scheme and theme. You can find a […]