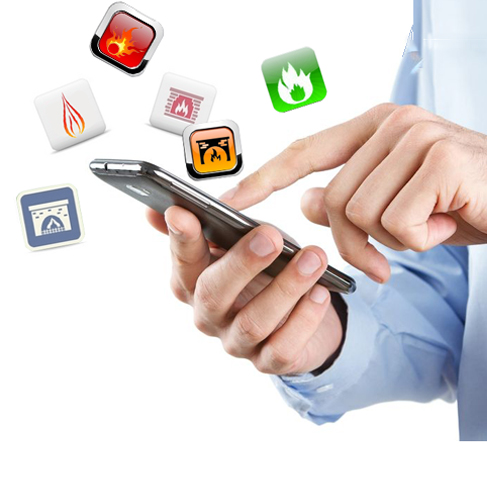 Have a fireplace in the palm of your hand.
Sure, a real fireplace fire, complete with its sounds, light show, woodland smells and cozy warmth, is just right for so many times.  But there are occasions when we can't be by the fireplace but nevertheless would like that experience.  Fireplace Apps allow you to take a virtual version of the fireplace experience with you even to those places without a fireplace.
Some Apps even allow you to display the fire on your television; great for homes or rooms without a fireplace.
Fireplace Apps reach their height of popularity in the winter, needless to say.  But they are also popular during warm weather when all the sensations of a fireplace – except the heat – continue to have allure.
Here are some times and places fireplace App users employ their virtual fires to set a mood or create a relaxing environment:
Add holiday cheer and atmosphere for Christmas and other winter holidays
"Warm up" a chilly night
Add romance to any setting
Create a soothing  background sound and/or visual experience to settings such as the office
Use as a night light and "white noise" at night
Enjoy as a relaxation or meditation aid
Mesmerize a bored toddler
The Best Fireplace Apps for iOS and for Android Devices
Fireplace Apps for iOS Devices:
You (and apparently everyone else) loved it on YouTube, because it was originally the most popular fireplace video there.  Now it's the #1 fireplace App!
Shot in HD, this App seamlessly loops the video and provides the realism of the crackling fire sounds.  Or pick a song from you iPod library as the soundtrack.

This easy-to-navigate looks great on the iPhone, an iPad and iPod Touch. With a choice of traditional fires or modern fireplaces, it gives you options for audio backgrounds of piano music including Christmas and non-Christmas songs, crackling fire sound, and even a selection of radio channels.
For those who want to fall asleep to the soothing sights and sounds of a fire, you'll appreciate the ability to set the video and audio on a timer.
3.     FirePlace     Cost $0.99

This Universal App (works on all iOS devices) is enhanced for both Landscape and Portrait viewing.   Stream to your AirPlace enabled device with the tap of your finger to have the roaring fire on your TV.
Comes with seasonal music selections or access your personal music library to select a different background audio.

Fireplace 3D Lite is the most popular free fireplace app.  That said, some think its graphics are not as great as those available in Apps that aren't free.
It includes a zoom option and the natural sounds of a burning fire.

Intimate Fireplace is the second most popular free fireplace App.  But if the music background tracks are as important to you as the visuals, this is probably not the App for you.
Spring for the full version of this App by Game Scorpion Inc. and you can select from 10 different fireplaces (Victorian, modern, etc.), each with its roaring fire.
Fireplace Apps for Android Devices

This favorite fireplace app for Android devices has no annoying ads, always a plus when a relaxing or romantic mood is the priority.  A unique feature of the Virtual Fireplace is that it allows you to adjust the speed of the fireplace flames.
There is a sleep timer, too, which allows you to fall asleep to the ambient sounds of your fireplace.
Many find it worth the $0.99 to unlock the additional features.

The appeal of this android app is that you get a campfire and a bonfire in addition to the standard fireplace fire.  The disadvantages are the annoying ads and short looping.
Since they have not yet invented scratch-and-sniff Apps, you'll miss the aroma of a real fireplace with an App.  And, of course, you'll have to do without the physical warmth.  But there are times when the closest you can come to the fireplace experience is an App.  For those time, check out these best fireplace Apps.
The United States celebrates National Bioenergy Day each October. It recognizes and encourages the use of renewable and sustainable bioenergy sources. In 2021, National Bioenergy Day is October 20. When any organic material with few or no productive applications is used to generate energy, we call it "bioenergy." The biomass can be any organic low […]