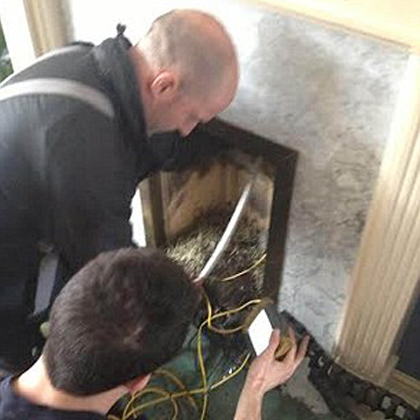 On February 27, 2014 the UK's Daily Mail startled readers with the headline, "Pet Rabbit Was Sucked up Chimney after Freak Gust of Wind Turned it into a Giant Vacuum."  The article goes on to explain that firefighters were called after three days, and they rescued Chloe, the family's furry pet.
So, what else was sucked up the chimney besides the unfortunate rabbit? Well, nothing.
Did the fireplace ashes even get sucked up the chimney along with the rabbit?  According to the photo accompanying the article, apparently not.
And what damage was done to the chimney by the freakish wind?  Well, none.
And what did neighbors report was sucked up their chimneys as this freak wind passed over? Nothing.
And did the local weather report unusual winds (maybe a localized tornado?) on the day Chloe was vacuumed up the chimney?  Well, "no" again.
We surmise Chloe the Rabbit did not get vacuumed up the chimney.  It is much more likely that she hopped up into the chimney on an exploratory jaunt and couldn't find her way back out.
We think this is a variant of the rule, "Don't do anything you wouldn't want to have to explain to the EMT's."  Chloe's family did not want to have to tell the firefighters that they had not rabbit-proofed their fireplace with a fireplace screen or that their curious pet had merely gone exploring and couldn't find her way back.  So the freakish rabbit-sucking wind story was concocted.
In short, this is not a Rabbit Sucked Up Chimney event.  It is a Bunny Tale about a Bad Hare day.
The United States celebrates National Bioenergy Day each October. It recognizes and encourages the use of renewable and sustainable bioenergy sources. In 2021, National Bioenergy Day is October 20. When any organic material with few or no productive applications is used to generate energy, we call it "bioenergy." The biomass can be any organic low […]