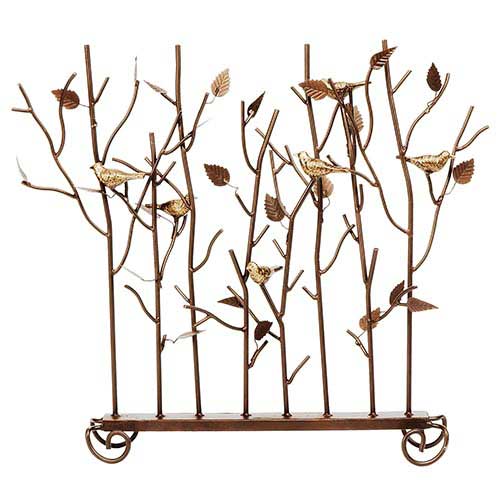 In the summer, you probably are not using your wood burning fireplace either for heat or for ambiance.
Without active fire, you really don't need a mesh-screen fireplace screen to protect people, pets, or your floors from heat or sparks.
Some people choose to omit a mesh fireplace screen altogether during warm weather.  But let's face it: a fireplace without logs and a screen, instead of being a worthy focal point of your room, is really just an empty hole.
That's what summer fireplace screens are for!  They are like screen-mesh fireplace screens, only without the mesh.  They, therefore, provide all the architectural interest and visual appeal of an accessorized fireplace, but without the protective mesh.  Minus the mesh, they have a more open, lighter appearance, making them fitting for summer.
Another popular use of summer screens is with gas fireplaces.  Since they have glass panels, many people choose not to use mesh-fireplace screen.  But summer fireplace screens complete the look of a gas fireplace, giving it the visual charm of a wood-burning fireplace.  In addition, a summer screen offers more options for home decorating than the typical black-box gas fireplace.
Summer fireplace screens are available in single panel and three-panel styles.  They come in just about every imaginable style and metal finish from traditional black to warm copper and bronze to elegant gold.
Looking for additional options for adding eye-candy to and enjoying your fireplace in the summer?  Don't forget to add a Fireplace Candelabra behind your summer fireplace screen to create the glow of fire without the heat.
A Halloween fireplace mantel scarf is the fabric drape that covers the top of the mantel. It provides the foundation upon which a Halloween themed mantel is created. The mantel scarf is to a fireplace mantel like a tablecloth is to a dining table: It sets the color scheme and theme. You can find a […]