While on your roof measuring for a chimney cap, be sure to check your chimney crown for any cracks or crazing. While small cracks may not seem like an issue, those small cracks can quickly become big cracks and eventually result in expensive repairs.
When water gets into those cracks and freezes it expands, enlarging the crack. Over time, the freeze-thaw process will cause that little hairline crack to become large enough to threaten the structure of your chimney crown. If left untreated, your chimney crown will begin to crumble and need to be replaced- an expensive repair.
Preventing Chimney Crown Repairs with CrownCoat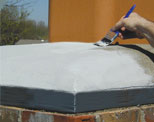 Those expensive repairs can be easily prevented, however, by coating your chimney with the heavy-duty chimney sealant CrownCoat. CrownCoat will keep water out of cracks and prevent new cracks from forming, protecting your chimney and your wallet for years. You can apply it easily with a paintbrush and lasts for a guaranteed 15 years. An ounce of prevention is worth a pound of cure!
Click on to read more about how to protect your chimney with CrownCoat.

5 Ways to Prevent Chimney Leaks A leaking pipe, a leaking roof, a leaking window, a leaking chimney – none of them is good. Here are 5 ways make your chimney leak-proof and prevent chimney leaks. See  how to fix chimney leaks and prevent them  in, through and around your chimney. #1 Way to Prevent Chimney Leaks: Install a […]