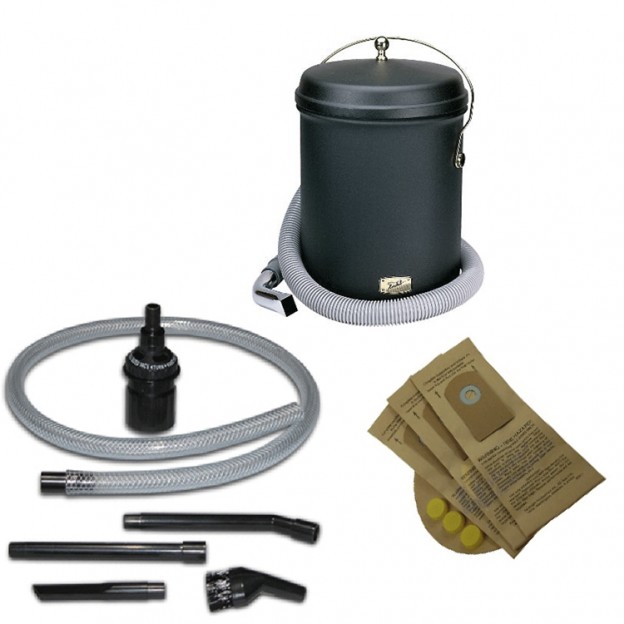 Skip the mess and fuss of ash removal. A compact, elegant Ash Vacuum
 is the cleanest, easiest, best —and most stylish—way to remove ashes from your fireplace, woodstove, or grill.
The Cricket Ash Vac doesn't even look like a fireplace vacuum, so you can keep it on your hearth all the time. When it's time to remove the cold ashes, you simply pull the hose out of the hidden compartment in the Cricket Ash Vac and remove the lid. The Cricket Ash Vac's electric cord even stays out of sight on a spring-loaded reel.
With a beautiful matte black finish and brass trim, the Cricket Ash Vac has a stylish and tidy hearth appearance that can pass for an ash bucket.
The Cricket Ash Vac has two filters and a comfort grip wand to clean efficiently 100% of the ash including in square corners. The secondary filter only needs to be changed after every third filter bag change. The full bag carries easily to a refuse container.
The Cricket Ash Vac makes cleaning any fireplace hearth or any stove or grill a breeze.
The real beauty of the Cricket Ash Vac is the way it functions. Its powerful 2.25 hp motor vacuums cold ashes (only) into a large filter bag designed to keep even the finest ash dust from escaping into the room.
The Cricket Ash Vac comes ready to use with filters and one bag included and includes a one-year warranty.