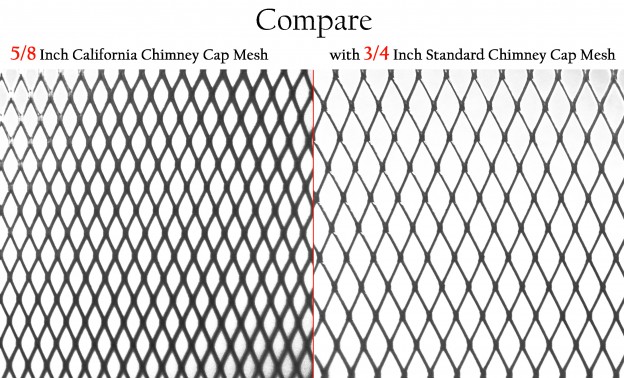 Spark Arrestor Chimney Caps for California
What is 5/8″ Small Mesh for Spark Arrestor California Chimney Caps?
Many localities–primarily California, but also in some other areas around the country, especially in Oregon, Arizona, and Nevada –have codes calling for 1/2″ spark arrestor chimney caps. Some localities call for such spark arrestor chimney caps in "wooded areas" or "within 200 feet of wooded areas."
Since these spark arrestors are primarily used in California, they are called California Chimney Caps.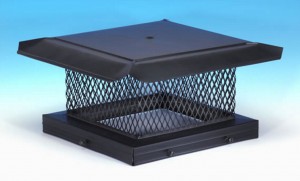 According to the National Fire Protection Association, chimney caps with 5/8″ mesh will not allow a 1/2″ sphere through them, and thus are considered the industry standard for California chimney caps. The chimney caps above all have this specially sized mesh to conform to these spark arrestor codes.
Homeowners with cedar shingles on their roof, home, or nearby buildings should certainly consider California spark arrestor chimney caps with small, 5/8 inch mesh.
In addition, round, oval, and large rectangular flue tiles sizes are often found in California, Arizona, Nevada, and Oregon. Many spark arrestor chimney caps above have a special base that fits either the square and round flue tiles or the rectangular and oval flue tile sizes.
Oval flues can have straight sides and rounded ends like a racetrack, or curved sides and ends. (Flues with straight sides and ends, with rounded corners are actually rectangular flues.) Only chimney caps designed specifically for oval flues will fit them correctly.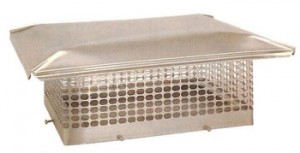 Even if your locality does not require 5/8 screening or California spark arrestor chimney caps, if you have an oval flue tile, these are the appropriate chimney caps for your flue.